The 'Shake It Off' singing, dancing, cat-loving sensation accepted her honorary doctorate in Fine Arts from NYU on Wednesday and her commencement speech was packed with wit, wisdom, and song references.
Though we're used to seeing Taylor Swift in whimsical or glittery ensembles charging around a stage or perched by the piano, in her commencement speech at NYU on Wednesday, she showed a side to her that we don't often get to see.
With lyrics like "And they called off the circus/Burned the disco down/When they sent home the horses/And the rodeo clowns/I'm still on that tightrope/I'm still trying everything to get you laughing at me", it's no surprise to anybody that this is an extremely clever, emotionally attuned person with a wealth of experience.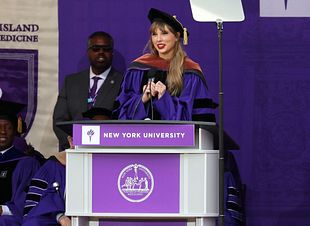 But during her speech, Taylor opened up about her humble beginnings, talking about the sides to her journey to fame that even the most Taylor-honouring Swifties may not know about.
She always imagined she'd go to college — at least in the fantasy 'Love Story' songwriting sense of seeing someone across campus and immediately picturing a destiny with them. But instead she was singing in cafés and going on very unglamorous radio tours, a time for which she thanks her family for their support.
She admits "But I really can't complain about not having a normal college experience to you, because you went to NYU during a global pandemic. Being essentially locked into your dorms and having to do classes over Zoom. Everyone in college during normal times stresses about test scores. But on top of that you also had to pass like a thousand Covid tests."
"I imagine the idea of a normal college experience was all you wanted too. But in this case, you and I both learned, that you don't always get all the things in the bag that you selected in the menu in the delivery service that is life."
But life is full of surprises, and like Taylor, we can find inspiration anywhere if we look hard enough. She encourages her fellow classmates of the class of 2022 to go out into the world searching for what's out there, what the next chapter of the story will be, "Welcome to New York, it's been waiting for you".
Here's to Doctor Swift, besties.