Róisín's new album Róisín Machine was released in 2020 and was nominated for a Choice Music Prize award.
Murphy was due to headline Mother Block Party on New Year's Eve in the capital, however restrictions made it impossible. In what is now a long overdue Irish gig, the singer-songwriter will be playing in the 3Olympia Theatre this April.
The show will be her first in Dublin since the release of her 2020 album.
Murphy rose to prominence in the 1990s as one-half of Moloko, which released smash hit songs including 'Sing it back' and 'The Time is Now'.
She then moved on to enjoy a wildly divergent solo career that has flitted joyfully from Italian song to powerhouse tracks like 'Let Me Know' means she has stealthily developed into one of today's most innovative and restless artists.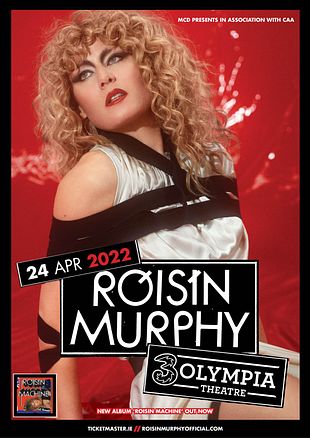 The singer said on Instagram last night, "When all yer NFT pyramid schemes unravel I'm here, in reality, waiting to sing. The Róisín Machine Tour resumes operations in the Spring. NEW Dublin date added."
Tickets go on sale this Friday 28, at 10am on Ticketmaster.