Irish songwriter and multi-instrumentalist Neil Dexter has today released the final single, 'I'll Be Ready', from his debut album.
The album, also called 'I'll Be Ready', releases on October 14. Alongside the announcement, Dexter also revealed he'll be playing his first headline show in Dublin's Workman's Cellar on October 20.
Dexter describes 'I'll Be Ready' as a "Frankenstein composition comprised of three different ideas saved in one project file" that he'd been working on in his Dublin-based home studio.
Lyrically, 'I'll Be Ready' confronts feelings of apprehension. Neil says, "I wrote the song when I was in my mid-to-late 20s, it's about jumping into the next stage of your life and the fear of not knowing whether or not you're ready to take those steps. In those moments, you try to reassure yourself by saying, 'Ok, I'm ready. I'll be able to do this,' whilst simultaneously having a sense of uncertainty. I think at one point or another, everyone goes through this feeling of overcoming self-doubt."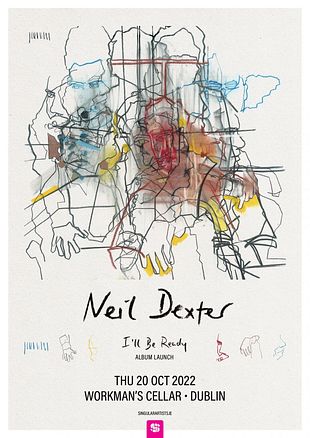 Dexter's debut album was written between 2018 and 2020, and co-produced with David A. Tapley and Stephen Dunne. This period welcomed a new chapter in his career, now making music as a solo artist following the disbandment of his former band Spies.
Reflecting on a new creative approach, Neil notes, "The way I had previously contributed ideas to a project involved inserting particular textures here and there with other people's ideas existing alongside them. Making 'I'll Be Ready' was the first time I was able to express - musically and lyrically - exactly what was in my head and explore those ideas with more time and focus. I hadn't done that before and I really enjoyed the exploration and excitement of finding new ways of writing songs and not having a rigid framework to adhere to. My memories of making the album are of a time of pure fun in experimentation with where you can take a song."
Make sure to follow Neil on Twitter and Instagram for more updates.
Tickets for Neil's debut show in Workman's Cellar on October 4 are available here.