He has always been a controversial figure in music. And since the 'Leaving Neverland' documentary aired earlier this year, Michael Jackson has proved doubly so.
Although the late pop megastar has been dogged by allegations of child sexual abuse in recent times, that hasn't stopped memorabilia from his vaults being highly coveted by fans and collectors.
One of those items is going for auction next week: the glittery socks worn by Jackson the first time he moonwalked.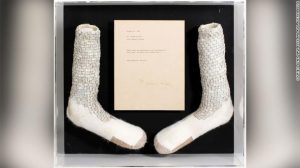 It's almost 40 years since Jackson first stunned the world with his iconic dance move at the 'Motown 25' celebration - and now the crystal-encrusted, custom-made socks that he wore to do it could be yours.
They are being auctioned online by the Gotta Have Rock 'n' Roll website. It notes that they are 'heavily worn' but genuine.
Bidding opens on November 13th at $100,000, but the socks are expected to sell for up to $2 million.
Other items of Jackson's are also available if that price tag doesn't suit you. A Chicago Bulls basketball jersey signed by both Jackson and Michael Jordan is expected to fetch $20,000. His silver 'Suit of Lights' from the 'Victory' era is also available, as are multiple platinum disc awards and memorabilia from the 'Moonwalker' movie.