English trip-hop collective Massive Attack are on their way back to Dublin with a visit to Kilmainham on August 28.
Tickets are priced at €59.50 including booking fee and go on sale at 10am this Friday.
The band formed in 1988 in Bristol by Robert "3D" Del Naja, Adrian "Tricky" Thaws, Andrew "Mushroom" Vowles and Grant "Daddy G" Marshall. The band currently consists of Del Naja, Thaws and Marshall, with Shara Nelson and Horace Andy as guest vocalists.
To date, Massive Attack have released five studio albums that have sold over 13 million copies worldwide. The band are known for the huge hits 'Teardrop', 'Angel', 'Unfinished Symphony' and 'Paradise Circus'.
Both 'Blue Lines' (1991) and 'Mezzanine' (1998) feature in Rolling Stone's list of the 500 Greatest Albums of All Time.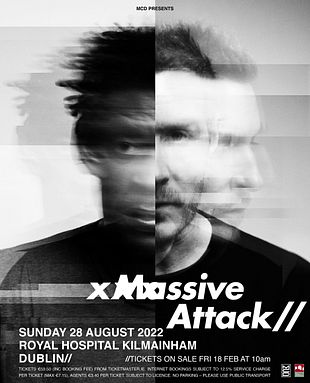 The band have previously played Electric Picnic back in 2018. They have also performed at the 3Arena on multiple occasions, most recently in 2019 as part of their 'Mezzanine' tour.
The collective have not released an album since 2010's 'Heligoland'. They have however released EPs including 'Ritual Spirit' (2016) and 'Eutopia' (2020).
Tickets for the August show at the Royal Hospital Kilmainham are available on Ticketmaster from Friday.