When Jesy Nelson announced her intention to depart from Little Mix for good just a few short months ago, most people took it to mean that she was taking a break from the music industry.
The pop singer said in a statement in December that the pressure of being in a girl group had become too much, and that she was taking time to 'reinvest in taking care of [herself] rather than focussing on making other people happy."
Now, however, it seems that the 29-year-old is ready to get back in the saddle and it looks like she's already plotting a solo career.
Nelson, who has remained active on Instagram since her announcement, posted a picture from the studio to her Insta Stories that showed two producers sitting at a mixing desk, one of them with a guitar.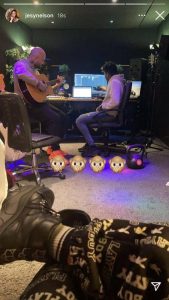 She added a picture of herself to her grid, with the caption "Let's go ???":
 

View this post on Instagram

 
There has been a mixed response to her news from Little Mix fans - some of whom are happy that she's continuing to make music, while some are confused.
Not Jesy Nelson doing a Zayn and leaving the band cos they wanted to live life normally / cos of their mental health... to end up straight into recording solo music....

— k a t h e r i n e (@lewiswtommo) February 16, 2021
Jesy said a reason why she left was because of people always comparing her to the girls as that was effecting her mental health, that doesn't mean she's going to stop making music.

— Mixersmelodies (@mixersmelodies) February 16, 2021
Confused at Jesy Nelson being in a studio on her insta story?? She wanted to leave Little Mix due to her MH and pressure of being in the spotlight?? Going solo will be MORE pressure 👀👀

— Craxg (@craigwakka) February 16, 2021
jesy nelson solo i am confused

— amelia is meeting ellen (@fumeroses) February 16, 2021