The last few days have been fairly hectic for rapper Lil Nas X.
Not only has his new video for 'Montero (Call Me By Your Name)' generated quite a stir because of its imagery (including him giving Satan a lapdance), but the trainers that he released in conjunction with the song/video have proven equally controversial.
Lil Nas X teamed up with streetwear label MSCHF to create 'Satan Shoes' - a black and red modified version of Nike's Air Max 97 trainers - that features a pentagram symbol and a reference to the Bible verse Luke 10:18, which reads: "I saw Satan fall like lightning from heaven."
They also contained "60cc ink and one drop of human blood".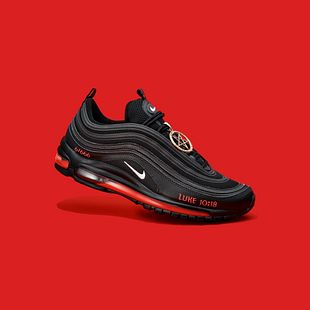 The shoes were limited to 666 pairs and retailed at $1,018 - and they sold out in under a minute when they went on sale yesterday.
Needless to say, there has been uproar about the shoes - not least from Nike, who are taking legal action against MSCHF.
In their federal lawsuit filed against the company, they said the shoes were manufactured "without Nike's approval and authorization" and that it was "in no way connected with this project".
"There is already evidence of significant confusion and dilution occurring in the marketplace," it continued, "including calls to boycott Nike in response to the launch of MSCHF's Satan Shoes based on the mistaken belief that Nike has authorized or approved this product."
Lil Nas X, meanwhile, seems to be enjoying the attention as he took to YouTube for a tongue-in-cheek 'apology' video - as well as posting the below to Instagram: