An iconic piece of rock history is going under the hammer.
The blue guitar used by Kurt Cobain in the famous music video for 'Smells Like Teen Spirit' is up for auction in the United States, with bids expected to start at $600,000 for the guitar.
The 1969 blue Fender is one of the biggest pieces of rock music iconography and a number of items belonging to Cobain will be bid on in May.
Martin Nolan, executive director of Julien's Auctions, said "this is one of the most iconic guitars ever to come to the auction block, this is the blue Mustang Fender guitar, one of Kurt Cobain's favourite guitars of all time."
"The guitar comes with its original case and, also, the guitar strap, so that's really important to collectors when they come to the auction to know the originality."
Nolan expects the guitar to fetch big money at auction, saying the auction house has conservatively estimated a price range for the guitar of $600,000 to $800,000 and noted "that's a very conservative auction estimate."
The auction house said that a portion of the earnings will go towards a mental health charity.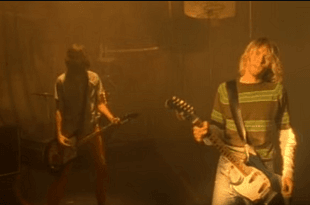 Among the items on sale include a 1965 Dodge Dart car that belonged to the Nirvana frontman, an artwork of Michael Jackson created by Cobain himself, a United Airlines boarding pass under Cobain's name, and several tour passes.
A guitar belonging to Cobain sold for $6 million at auction in 2020, a record for the most expensive guitar ever sold at auction.
A number of items from music stars such as Cher, The Beatles, Elvis, Lady Gaga, Madonna, Elton John and Bob Dylan will be under the hammer as part of Julien's Auctions "Music Icons" sale.
'Smells Like Teen Spirit' became a cultural sensation upon release in 1991, with the Samuel Bayer music video raking up 1.4 billion views on YouTube, with data from YouTube putting it just behind 'November Rain' by Guns N' Roses as the most-viewed 1990s music video on the platform.
The track became a global chart hit, and helped parent album 'Nevermind' become one of the biggest selling albums of the decade.
Last year, the track placed at number five on Rolling Stone magazine's list of the 500 Greatest Songs of All Time.
The music of Nirvana has seen a resurgence recently after 'Something In The Way' was used in 'The Batman' causing the song to appear on numerous global charts.