Styles' new album 'Harry's House' bopped smoothly into our lives last Friday and things haven't been the same since.
Our morning commutes are accompanied by 'Music For a Sushi Restaurant', the soundtrack to our workday goes between 'Daydreaming' and 'Boyfriends' and our evenings are filled with 'Little Freak' while we cook or put away the laundry.
With any deadly new album comes some equally deadly music videos. For his next trick, Styles came together with James Cordon to film the video for 'Daylight'. The catch? They had to make it on a 300 dollar budget with zero plans starting out; no venue, no nothin'. Oh, and they had to do it all in three hours.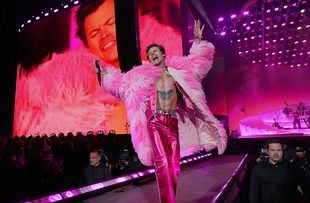 Corden and Styles stalk the streets yelling at people in the buildings above, trying to find a fan whose house they can use for the shoot. They go to a woman's front door to ask whether they can have a nosey inside her house to see if it's suitable for the video — she politely declines.
Corden remarks "I thought this would be easier Harry, I gotta be honest, I thought your face would open a lot of doors". But honestly, the odds on our houses being in shipshape at the last minute for two A list celebs and a music video shoot? Slim to none.
For the song that focuses on what goes on when the sun goes down, Styles is (mostly) perched at a bar, stood still in the middle of a makeshift dance-floor at a house party, or clothed in the bath. The lighting makes for a moody, club-scene feel with glow sticks, glitter, and even bunting (yes, bunting).
The lads manage to pull it off so well. They capture a kind of college infatuation through the nostalgia of LED lights that beam red, green, and yellow onto Styles' face — the rainbow of the night.
Check out the end product for Harry Styles' 'Daylight' here.