Grafton Street was all a-buzz last night as one of Ireland's biggest artists serenaded thousands of fans happy to stay out in the cold.
Dermot Kennedy was perched on top of Bewley's café on Grafton Street last night for a very special musical performance in aid of Barretstown Camp.
The Rathcoole native, who was known for busking on these very streets before hitting the big time, played some new songs from his second album, 'Sonder', including 'Something To Someone' and 'Kiss Me'.
Just look at all those people down there, and the beauty of all of the multi-coloured hats on show (and some poor sods trying to wade their way through the crowd).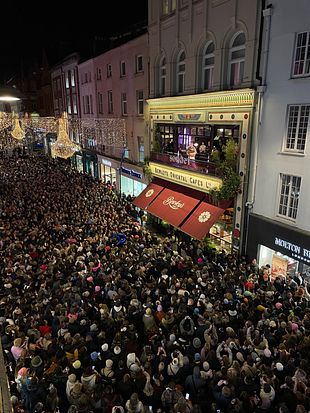 Dermot's second studio album was released on Friday, but the impromptu gig was more than just a way to plug his second offering.
Dermot Kennedy teamed up with Barretstown Camp for the special Grafton Street occasion, a charity that provides specially designed activities for children with serious illnesses. Should you wish to get involved and donate to the children's charity, text "PRESSPLAY" to 50300 to donate €4 to Barretstown.
The musician tweeted a snippet of his performance from Bewley's balcony, saying it was a "once in a lifetime feeling" to play in front of all of these people and for such a special reason.
Dermot will be heading over to the US next month, as he tours with OneRepublic, The Band Camino and Andy Grammer. His European and north American solo tour kicks off next March, which will see him visit countless countries and states, all culminating with two dates at Dublin's Marlay Park next June.
Dermot Kennedy's new album 'Sonder' is out now.