Give the person in the marketing department of Coldplay's record company a raise.
Considering the title of the album - which was announced via a good old-fashioned postcard that was sent to fans - is 'Everyday Life', the band are taking that theme and running with it.
With the postcard reading: "In the classifieds you might write 'double album for sale, one very careful owner', ads in the 'Classifieds' sections of various newspapers - both local and national - have been appearing around the world today with that very line.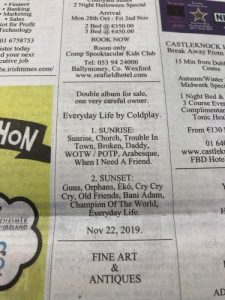 They reveal the tracklisting of 'Sunrise' and 'Sunset', which you can see below:
SUNRISE
Sunrise
Church
Trouble in Town
BrokEn
Daddy
WOTW/POTP
Arabesque
When I Need A Friend
SUNSET
Guns
Orphans
Èkó
Cry Cry Cry
Old Friends
- (unknown title)
Champion of the World
Everyday Life
Annie Mac is set to debut two new tracks from the album on her BBC Radio 1 show tonight, as well as an interview with Chris Martin. Irish listeners can tune in online here.