Last month, Body & Soul festival, which takes place on the 17-19 of June this year, purposely didn't release its line-up on launch.
However, that didn't seem to repel any attendees as early bird tickets for the summer festival in Ballinlough Castle Estate. Now, the line-up has finally been released and it's a pretty great one!
Among the impressive list are Róisín Murphy, Scottish rock band Mogwai, Pillow Queens and Soda Blonde.
Body & Soul will also welcome live guests including mesmerising artist, MC and poet Sampa The Great; Californian singer-songwriter Remi Wolf; the dance floor poetics of experimental musician and producer Yves Tumor; and Dublin artist CMAT, whose debut album, If My Wife New I'd Be Dead, flew to the top of the Irish charts earlier this year.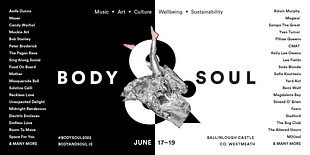 Meanwhile, Lakeside, Body & Soul announced a unique album playback for world-renowned electronic music composer Jon Hopkins' Music for Psychedelic Therapy. This immersive sonic experience, housed in a specially designed geodesic dome, will "transport audiences into different temporal spaces at intervals over the weekend, inspired by the album's journey across different geographical and cosmological spectrums."
Alongside this tightly curated music programme, Body & Soul will also play host to a diverse array of artists and experiences across the weekend. This includes large-scale immersive work created by digital installation artist Aoife Dunne, forming part of the Woodlands art gallery. Genre-defying multi-instrumentalist Peter Broderick will present a unique, three-part performance, fusing foraging, with siesta soundscapes and a live performance. 
Tickets are on sale now and cost €250 + service charge. Instalment plans, Camper van, bus tickets and boutique camping available via bodyandsoul.ie
Body and Soul takes place in Ballinlough Castle Estate, Co. Westmeath on June 17-19