Metallica have many accolades to their name; they're the biggest selling metal band of all time, their self-titled 1991 album was among the biggest albums of the 90s, they were the first band to play all 7 continents and now they can add a new claim to fame: a baby was born during one of their concerts.
A Brazilian woman named Joice Figueiró gave birth during a gig by the metal icons on Saturday night in Curitiba, Brazil.
Figueiró was 39 weeks pregnant when her waters broke during Metallica's set.
She added "everyone was surprised at what was happening." 
Initial plans to take her to the hospital by ambulance were scuppered, and Luan was delivered at the events medical clinic with 3 songs left in the concert.
Baby Luan entered the world as the band was playing their 1991 hit single 'Enter Sandman' was playing .
Figueiró shared her story on Instagram, saying "at every show I go to something has to happen, but this time I think I've outdone myself!"
Figueiró says she purchased the concert ticket three years ago, adding, "Everyone who saw me in the line with that 39 weeks belly said that he would be born in the show, and that's what happened!"
Figueiró said she had received lots of messages about her son's birth and thanked well-wishers for their support, with the band liking her post on Instagram.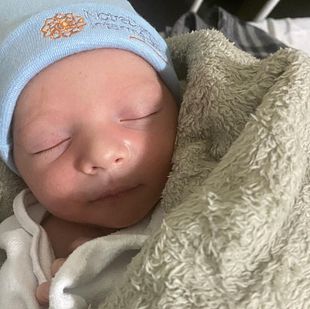 "I'm great physically and trying to understand how this happened," she added, thanking people for their "love and concern."
She joked the baby was going to be called James Ulrich, in honour of frontman James Hetfield and drummer Lars Ulrich.
Metallica are still on tour promoting their 2016 album "Hardwired To Self-Destruct" which saw the metal giants play a packed house in Slane Castle in 2019.
Since forming in 1981, the band have gone on to sell over 125 million albums worldwide, with drummer Lars Ulrich saying in 2021 it was still "too early" to discuss releasing a new album.
Last year a baby in the United States was given the name "Korn" following a hospital mix-up.
Perhaps Luan and Korn can form a supergroup?