Set in a fictional world where giant monsters roam the seas, the great celebrities of the time are their sea-faring hunters, none more famous than Jacob Holland (Karl Urban). But when a mischievous orphan by the name of Maisie Brumble (Zaris-Angel Hator) manages to find her way onto his ship, the two end up setting off on an epic adventure of new perspectives, rewriting the history books as they go.
Animated children's films usually follow a predictable narrative. You'll laugh, you'll cry and you'll come away with that warm, fuzzy feeling inside. 'The Sea Beast' does all of those things, but its predictable story is never an issue. The story is told in such a beautiful and engaging way, that the movie feels as complete and rounded as possible. With a strong voice cast and incredibly colourful animation to back it up, 'The Sea Beast' is a roaring success for Netflix and for animated films in general.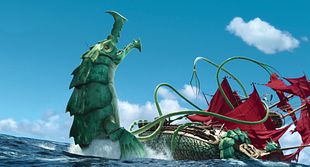 The main theme running throughout the film is that of historical accuracy. Maisie, a young orphan with adventure burning inside her, dreams of sailing the high seas, just like her late parents did, exploring the unknown and battling leviathans, like those in her books. She reads of larger-than-life sea captains, such as Captain Crow (brilliantly voiced by Jared Harris) and his second in command, Holland.
These monster-hunters do exactly as they say on the tin. They simply rid the world of evil beasts and claim the bounties they deserve for freeing the people of harm. They follow an age-old code and never question their morals. But, it's never that simple, is it?
When Maisie and Jacob find themselves in the clutches of the legendary beast, the Red Bluster, the two find out that these creatures have more to them then the stories tell.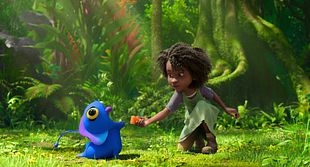 The trio of Maisie, Jacob and Captain Crow all experience crises of identity as the worlds that they thought they knew come crashing down around them. The way in which they all react differently is what makes the movie so endearing. Do you stick to your (literal) guns? Or do you challenge the narrative you've been fed? It's never an easy decision, but 'The Sea Beast' manages to handle it succinctly through the different character's lenses and poses questions that both adults and children can mull over.
As well as the excellent main cast, supporting characters are all voiced to an equally high level. However, Kathy Burke's brief cameo as the witch-like Gwen Batterbie stands out tall. This reviewer wishes she was given much more screen time (or a potential spinoff?).
Marianne Jean Baptiste also gives a rousing performance as the frighteningly staunch Sarah Sharpe, too. It's amazing to think what two actors can do with so few lines throughout a film.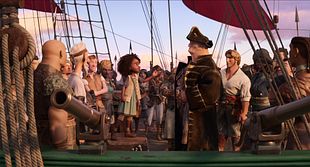 The animation is beautiful on the main, however there are some areas that feel a little less well-rendered. One big issue in particular is the Red Bluster itself, or 'Red' as she becomes affectionately known. It's a difficult task to try and make a creature both frightening and loveable at the same time, and the beast's smooth features feel like a product of "less is more" thinking. But in comparison to other big beasties throughout the film, 'Red' sticks out like a sore thumb.
Yet, these are small complaints and nit-picking at what is all together a gorgeous-looking film. As the views of the deep seas astound and colours dance on screen, while a group of brilliant voice actors take you on a journey of discovery, you'll hope this is just the first chapter of a rewritten history book.
'The Sea Beast' is available on Netflix on Friday, July 8.