The second instalment in the Kurt Russell-led Christmas adventure movie series sees him don his sooty red suit once again - but this time around he's got Goldie Hawn as Mrs Clause by his side. But is it any good?
Well, if you like your eyes having to deal with scene after scene of greenscreen, CGI Elves, and predictable storyline - then you'll eat this up. If this sounds like you, chances are you're probably below the age of eight. Maybe those of us who have already seen our fair share of festive capers will want to steer clear of 'The Christmas Chronicles: Part Two'.
Picking up two years since siblings Kate (Darby Camp) and Teddy Pierce (Judah Lewis) saved Christmas in the original movie, we now join the family while they are on holidays in Cancun. Kate has now turned into a "cynical teenager" who yearns of being at home with her friends and enjoying a typical, snowy Christmas. Her mother (Kimberly Williams-Paisley) has a new boyfriend (Tyrese Gibson), and he and his son Jack (Jahzir Bruno) are trying to make the most of the holiday while Kate has various temper tantrums.
Luckily for viewers, it's not long until Kate and Jack find themselves in the North Pole whereby Santa (Kurt Russell) and Mrs Clause (Goldie Hawn) come to their rescue. That is, until Santa's Village comes under attack, and all four must work together in order to save Christmas.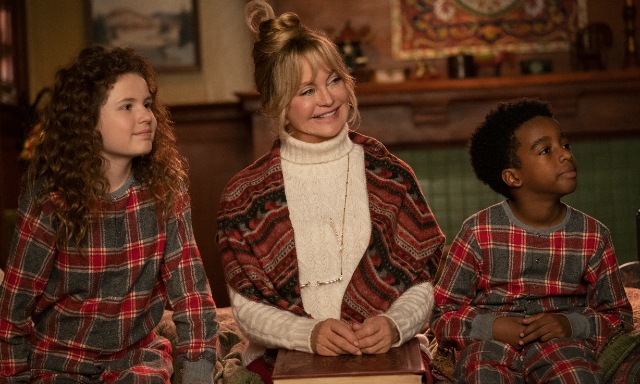 If the film synopsis up above sounds like your bog-standard Christmas/family adventure film, then yep, it most certainly is. While the first entry in the 'Christmas Chronicles' series saw us down on the streets in Chicago, it gave us a very different Santa Clause than we'd seen previously. Kurt Russell as the man himself was a natural fit, with a bit more street credit that you'd think was imaginable. Here, however, the action has moved to Santa's village in the North Pole, and there's a new baddie in town, Belsnickel, played by 'Deadpool 2' actor Julian Dennison.
While Russell and Hawn are fun to watch on screen, with their near-childlike excitement seeping through at points, one can't help but feel that this family movie is way too long. Creeping up to that two-hour mark, director Chris Columbus should have done the decent thing and gone for a neat 90 minutes.
While it's not bad by any means, it just doesn't feel all that magical. For one, the CGI Elves, which have been given a more central role in this sequel (unfortunately), offer up none of the charm and cuteness that the likes of the Minions from 'Despicable Me' do in their sleep. One highlight from the first movie that is carried over to this sequel is the musical number, which offers up a welcome break from the storyline (and involves a guest appearance from Darlene Love). 
All in all, if you're looking for an easy Christmas watch for the family, then there's moments here that everyone can enjoy. But if you're hoping that Kurt Rusell saving Christmas for the second time will offer up something new, then you're better off giving it a miss.
'The Christmas Chronicles: Part Two' is available on Netflix now.