Paolo Sorrentino has become one of Europe's most in-demand directors after his 2013 film 'The Great Beauty' won the Oscar for Best Foreign Language film.
Sorrentino is a director who wears his heart on his sleeve and his presence can be felt in every frame or line of dialogue, and 'Hand Of God' is his most autobiographical film yet.
Set in the city of Naples in the early 1980's 'Hand Of God' follows the life of Fabietto, a reserved and withdrawn teenager who is too smart for his own good.
Mostly based on Sorrentino's own life, 'Hand of God' is a portrait of a family first and a city second.
When Diego Maradona joins his hometown team of Napoli, it coincides with a tumultuous time in the life of a young man called Fabietto.
Fabietto doesn't have that many friends, and is much more at home quoting the classics than he is meeting a girl.
In typical Italian fashion, the family unit is the main driving force of the young man's life, and there are plenty of scenes where we explore the dynamics of what makes his family tick.
Sorrentino has a unique understanding of the human condition and what happens when you have different personalities clash.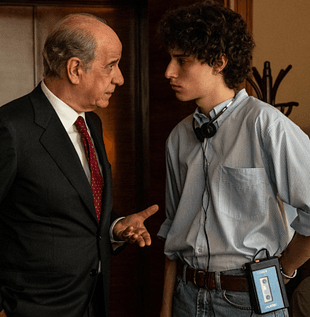 In one of the films best scenes, Fabietto's father receives a phone call to the house late at night that a family friend who works at a local bank reveals that a large transaction for 13 million has been lodged, revealing it's Diego Maradona's transfer fee.
The family's reaction is pure euphoria, and Sorrentino captures the joys of being a sports fan beautifully in that moment.
In the films best moments it is outrageously funny, with a foul-mouthed family member being provoked to pass a biting comment, a family member raving about Maradona scoring his infamous "Hand of God" goal against England at the 1986 World Cup being revenge for the Falkland Islands or a chance encounter with a famed Italian film director offering life advice among the film's highlights.
'The Hand Of God' works if you know just how much of an impact the arrival Diego Maradona had on the city of Naples or watched Asif Kapadia's 2019 documentary, but the film does a good job at painting a picture of the scope and impact Maradona's arrival had.
The cast is familiar to those with an interest in Italian cinema, and up-and-comer Filippo Scotti is fantastic in the lead role as Fabietto, playing him with the tenderness and naivety of a young man who's trying to adjust to a changing world while also following his heart.
The final 20 minutes of the film sees Ciro Capano steal the show as Italian director Antonio Capuano, in a hurricane of a performance that changes the tempature of the movie similar to Ray Liotta in 'Something Wild' or Willam Hurt in 'A History Of Violence'.
Capano has less than 10 minutes of screentime but he makes every second count, offering blistering but hilarious life advice to Fabietto while also talking about what makes him great as a director.
The strength of the film lies in its slice-of-life, vignette approach to scenes, with one scene involving a prank as funny as 'Toni Erdmann' and one scene set in a hospital as heart-breaking and gut-wrenching as a Michael Haneke film.
Federico Fellini is invoked in the film, and 'Hand of God' feels like a lost Fellini film in parts.
Diego Maradona looms large over the film's storyline, never quite focusing fully on the Argentinean football icon but having the main characters exist in the space around him.
Fellini looms large over the film on a filmmaking level, with the plot moving from one encounter or life tribulation to the next.
Sorrentino comes close to matching the master of Italian cinema, but the neo-realist spirit of Roberto Rossellini hangs over the film as well.
The characters aren't as bombastic or dramatic as their Hollywood counterparts, they're like real people you would meet on the street.
European cinema has always been defined by the matter-of-fact and curt depictions of characters, and 'Hand of God' is no exception.
In one of the films most profound lines, a character comments you never really know what's going on in someone else's house, you think you know everything that's going on based on the noises from outside the house, but inside is a different story.
If the film has a weakness, some characters drift in and out of the story without being as well fleshed-out as the others, with notably Fabietto's brother or his aunt chief among them.
Those are very minor complaints for a film that is as rich and dense as a good novel, and a whiskers length away from matching with 'The Great Beauty'.
It is rather maddening Netflix would rather fund tripe like 'Red Notice' than 20 movies of this quality and depth per year.
'Hand of God' is available to stream on Netflix now.