A true story, this critically-acclaimed Oscar nominee deserves your undivided attention.
'Flee' is an animated documentary which tells the troubled (and eventual hopeful) life of Amin Nawabi, a man who left his war-torn home country of Afghanistan as a young boy with his family in order to seek refuge and a better life. Told through a series of recorded interviews Amin underwent with director Jonas Poher Rasmussen, the story offers up a rare glimpse into the harrowing life of an immigrant who must leave Kabul behind while also accepting himself for who he is.
In the age of cinema that we now live in, it's rare that a movie leaves a lasting impression on you after watching it. We, as a people in general, are so caught up with needing to watch the latest blockbuster or the hottest must-see release, that sometimes it's easy to forget that there are other, more relevant and more impactful releases out there than the latest Marvel showcase. It's funny then that 'Flee' should get its release on Disney+, the home of such star-studded releases.
Told predominantly through Danish, with Dari and Russian also spoken, we follow Amin's life from a carefree child who always felt "a little different" up until the present day as a 30-something-year-old who considers finally settling down in life. As a child of war, of a life that saw him constantly having to look over his shoulder, he finds it difficult to stay in one place. It's this juxtaposition of wanting to live an untroubled life as a child, and finally having it as an adult and not knowing what to do with it, that makes up just one compelling part of the film.
'Flee' could sound familiar to film buffs out there, as it was one of the Oscar nominees from earlier this year. The category winner, again a Disney release in 'Encanto', might have had you leaving the theatre with 'We Don't Talk About Bruno' stuck in your head, but did it - dare we say it - resonate with you as a person?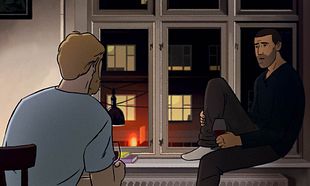 'Flee' might not sound relevant to everyone who watches on paper, but that's the beauty of seeing this true story unfold. Whether you yourself are an immigrant or not, whether you are in the queer community or not, whether you love a documentary or an animation or not, you will find something to fall in love with. Oftentimes a documentary film teaches you something about someone or something else from a different part of the world, and this does that by showcasing captivating animation. Should the story be told, say, in a regular live-action setting, it might not have worked as well. The animation elevates the film.
A fascinating and at times deeply moving snapshot of a refugee seeking a better life for himself and his family, 'Flee' is a piece of art. It might have taken over a year and a half to be available in Europe after its Sundance premiere in 2021, but this is a case of better late than never.