Jamie Foxx stars as a grizzled vampire hunter in this action-comedy-horror flick alongside law-abiding newbie Dave Franco.
With big-budget CGI becoming much more of staple in on-demand TV offerings, horror comedy is a genre which is really benefitting. We've had plenty to sink our teeth into over the last decade or so, becoming ever more popular to explore.
However, it's a difficult area to really stand out in. Horror comedies, by their very existence, tend to use tired tropes and spin them in an original way. Think 'What We Do in the Shadows' or 'Cabin in the Woods'. When movies fail to reach the heights of hits like those, they fall into a messy, cliché-driven trap, despite their best efforts.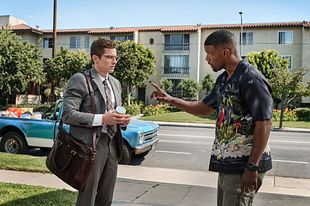 Unfortunately, there's a reason why I'm mentioning this. 'Day Shift' has all the hallmarks of a promising horror-comedy. It's got a stellar cast, including the excellent Jamie Foxx, the ever reliable - and sometimes underrated -Dave Franco and uh... Snoop Dogg.
It's also got a positively original plot, too. Foxx plays Bud Jablonski, a rogue LA-based vampire hunter in need of quick cash. If he doesn't somehow get $10,000 for his daughter's school fees by the end of the week, his wife is moving her to Florida to start a new life.
There's only one way for Bud to get that sort of cash: re-join the union of vampire hunters he was kicked out of (for not following the rules, of course) to collect and sell some expensive vampire teeth.
However, when his old buddy, respected vampire hunter Big John Elliot (Snoop), convinces the union to get Bud back in, it's under one condition - he's got to take a rep, Seth (Franco) along with him at all times to make sure he's following the rules.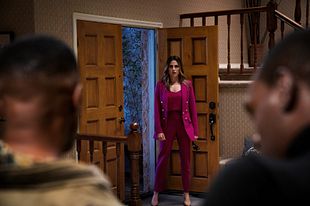 Rules are important to mention here - there's a lot of them in this movie. Most monster flicks follow a few golden rules to establish the lore. But 'Day Shift' goes really overboard. In a series of agonizingly clunky exposition scenes, Seth explains that there are several types of vampire - Southern, Eastern, Spider, Uber and Juvenile. Each has varying levels of powers and are killed at varying levels of ease. But don't worry if you can't follow all of that, it really doesn't matter. The movie isn't too arsed with following its own rules.
Adding to that, there's also some sort of sun cream which vampires are using to run around during the day. Oh, and golden dust a hunter must rub on his wounds after a run-in with the undead. Again, merely glossed-over plot devices that don't really lead anywhere... apart from a few jokes about buttholes.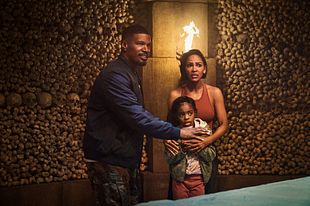 The action is where 'Day Shift' actually carries some weight. As it should, it's directed by ex stunt-man of thirty years J. J. Perry. While most of the vampires are pretty run-of-the-mill pale fellas with glued-on fangs, the action scenes are quite original.
There's a great mix of CGI and stunt-work, including the straight-to-the-action first scene where Bud raids a vampire-infested house. Shotguns are the weapon of choice for most sequences but there's some brilliant hand-to-hand combat flying around too.
However, the movie lacks in pretty much everything else. The main villain of the movie, Audrey San Fernando (Karla Souza), is a property-developing head vampire with very little dialogue, apart from the odd line of Spanish thrown in for effect (what effect that is, I don't really know). Her backstory and motivation aren't explored at all, which feels like a massive swing and a miss, seeing as it could have led somewhere interesting.
While there is some redemption in the heavy action sequences and twisty final third of the movie, we've already suffered through some painfully unfunny dialogue, underused acting talent and confused clichés.
Despite its best efforts, 'Day Shift' can't quite make it back from the dead.
'Day Shift' is available to watch now on Netflix.