Viola Davis stars in the upcoming historical-thriller 'The Woman King' which has just released its first trailer.
Davis plays General Nanisca, the leader of the Agojie. The all-female military group fought enemies who violated their honour, enslaved their people, and threatened to destroy everything they've lived for. This real-life group protected the Kingdom of Dahomey in West Africa, now known as Benin, for three centuries.
Cast alongside her is John Boyega, playing King Ghezo. Lashana Lynch and Thuso Mbedu also star in the film directed by Gina Prince-Bythewood. Dana Stevens wrote the film.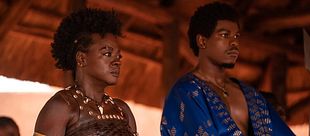 Davis claims that the upcoming film is her magnum opus. Speaking to Vanity Fair, she said, "I've never had a role like this before. It's transformative. And to be a producer on it, and to know that I had a hand in bringing it to fruition…. There's always a vision you have for your career, but there are very few roles as an actress of colour. Dark skin with a wide nose and big lips. I'm just gonna continue to say it. Those stories are extraordinarily limited."
Asked whether it may be difficult for average movie-goers to digest images of ferociously powerful, dark-skinned female warriors on screen, director Prince-Bythwood's response was, "If you can digest 'Avatar', then you can digest this."
Watch the full trailer below.
'The Woman King' arrives in cinemas on October 4.