Talk about flogging a dead horse - this is just getting ridiculous. AMC are clearly ignoring the fact that their once-hit TV show has seen ratings plummet since season five, and have decided to take a stab at the movies. But not just one movie, however, three.
The move, which The Hollywood Reporter broke, will see star Andrew Lincoln be the lead in a new three movie deal for AMC. The actor, who *spoiler* got the boot from the show in the latest series nine, is believed to reprise his role as Rick Grimes for all three movies.
In a deal that will bring "a trio of big-budget, feature-length movies that will air on the basic cable network", these are going straight-to-TV. Speaking to THR, helmer Scott M. Gimple had this to say. "The story of Rick will go on in films. Right now, we're working on three but there's flexibility in that.
"Over the next several years, we're going to be doing specials, new series are quite a possibility, high-quality digital content and then some content that defies description at the moment. We're going to dig into the past and see old characters. We're going to introduce new characters and new situations."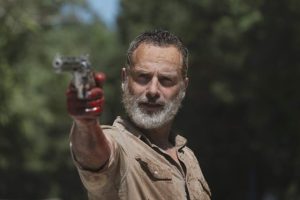 Gimple was recently promoted to oversee the new expansion of the series. He mentioned that the idea for the movie expansion had been around for a while, revealing another *spoiler*. He said "Rick Grimes is an amazing character and Andy has done an amazing performance.
"There were story ideas brewing that, as the years went on, seemed very compatible with continuing to tell the Rick story in another format that would allow him time with his family". Meaning that, yep you guessed it, Rick Grimes is not dead. And unfortunately, neither is this show.
What do you make of the new announcement? Let us know if you're looking forward to the movies, or if you're going to be switching off for good.