The cast of 'The Devil Wears Prada' reunited this week to celebrate the 15th anniversary of the instant movie classic.
'The Devil Wears Prada' cast members included A-listers Meryl Streep, Anne Hathaway, Emily Blunt, Stanley Tucci, and Gisele Bündchen. All of them eagerly attended the reunion.
The comedy of course made an icon of Miranda Priestly played by Streep, but she wasn't necessarily the movie's antagonist.
As Streep reflects: "I think the reason that [the film] has stayed with us and landed is because it hit at a particular moment in time—the discomfort with women being boss people had to figure out, because we weren't gonna go away.
"This is the first movie I've ever had … that men have come up to me and said, 'I know how you feel.'"
In the years since the release of 'The Devil Wears Prada', many have turned to social media to slam heroine Andy's (Hathaway) boyfriend Nate, played by Adrian Grenier, who would chastise Andy and belittle her work with Miranda.
Many have gone so far as to say he's the real villain of the movie.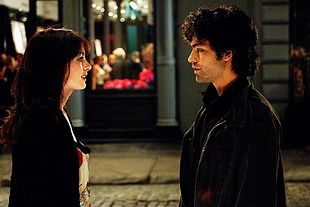 Upon being asked about the trend, Grenier answered: "When that whole thing [about Nate being the 'real villain' of the film] first came out, I couldn't get my head around it. I didn't understand it. Perhaps it was because I wasn't mature as a man, just as Nate probably could've used a little growing up.
"I was just as immature as him at the time, so I couldn't see his shortcomings, but, after taking time to reflect and much deliberation online, I can realize the truth in that perspective. Nate hadn't grown up, but Andy had…. she needed more out of life, and she was achieving it.
"He couldn't support her like she needed because he was a fragile, wounded boy…. on behalf of all the Nates out there: Come on! Step it up!"
The actor also revealed that in a 'The Devil Wears Prada' scene towards the end of the movie, in which Nate and Andy met up to discuss their relationship and what they'd been up to, he and Hathaway were meant to kiss. But his co-star pushed back on it.
Grenier says: "It was a testament to Anne: [she and I were supposed to kiss in the grilled cheese] scene that she worked through, saying, 'I just don't think it's right…just doesn't feel like we're at that point in our relationship. There's too much history.' She was right. We forwent that intimacy for something more familial."
Watch the full 'The Devil Wears Prada' reunion interview via EW, and test how well you remember the movie in our quiz below.