As much as any film festival is a hopper for buzz, the Sundance Film Festival occupies a fairly unique space in the landscape.
Generally, the movies that debut at Sundance haven't been picked up for distribution and bidding wars can easily break out among studios and streamers for said movies. What's more, some of the biggest movies of the year start off in either the Sundance Film Festival or the South by Southwest Festival.
With that in mind, here's nine movies you'll be hearing a lot about in the year to come.
'You Hurt My Feelings'
Nicole Holofcener's work has always been quietly brilliant, and it's little surprise her movies always premiere at the Sundance Film Festival. 2013's 'Enough Said', which featured James Gandolfini's greatest performance outside of Tony Soprano, premiered there with frequent collaborator Julia Louis Dreyfuss. This time around, Holofcener reteams with Dreyfuss and a stacked cast of talent including 'Arrested Development' star David Cross, 'SNL' breakout Michaela Watkins, 'Succession' alum Arian Moayed, and a rare comedic turn for British thesp Tobias Menzies. Expect classy laughs.
'Still: A Michael J. Fox Movie'
For those of who grew up in the late '80s, Michael J. Fox was an ever-present figure. Whether it was 'Family Ties' or 'Back To The Future', or even further on to the likes of 'Spin City', Fox's irrepressible charm shone through. This documentary, which was bought by Apple TV+ at the festival, gives full access to Fox's life and condition and examines the toll of his condition and how his character and optimism confronts an incurable, degenerative disease.
'In My Mother's Skin'
Although you wouldn't necessarily associate it, Sundance has had some cracking horrors slither out of the festival. In previous years, movies like 'Get Out', 'Hereditary', and 'Hole In The Ground' all premiered there. This year, two horror movies are making a stir - one is Brandon Cronenberg (yes, David's son) and his movie, 'Infinity Pool'. The other is 'In My Mother's Skin', a dark horror tale set during the final days of World War II in the Philippines, where the remnants of the Imperial Japanese surround a country mansion with a young daughter trapped inside caring for her ill mother. That sounds more like a Merchant-Ivory movie, until you mention the fact that there's a flesh-eating fairy involved in this story.
'Flora and Son'
John Carney's no stranger to musical comedy-dramas, so it's no surprise that his latest work is just that. Starring Eve Hewson as a single mother who tries to turn her wayward son to music with the help of an online music teacher played by none other than Joseph Gordon-Levitt. Not surprisingly, the movie was bought by Apple TV+ almost right after the premiere, which apparently had people spontaneously clapping along and receiving a thunderous standing ovation after the credits rolled. Maybe Eve Hewson's got a talent for music as well as acting? Must run in the family.
'Polite Society'
Imagine a high-flying, high-kicking martial arts comedy ala Jackie Chan's work in the '90s mixed with Bollywood-Lollywood visuals and you're on thE way to 'Polite Society'. Nida Manzoor's feature debut sees a young woman training to be a stunt performer take on a daring heist to free her sister, who has dropped out of art school and is on her way to an arranged marriage. Expect lots of fun, lots of frenetic action, and lots of feminist fisticuffs.
'Sometimes I Think About Dying'
Post-'Star Wars', Daisy Ridley's output has been relatively scarce - something she's not been shy about discussing. In 'Sometimes I Think About Dying', Ridley departs entirely from this and goes for a smart indie comedy role playing a suicidal office worker who's kind of obnoxious. Yeah, it doesn't get much different than that. At any rate, the movie has received some pretty intriguing reviews and it's always exciting when actors previously in major franchises branch out into weird and wonderful movies like this.
'Infinity Pool'
As mentioned earlier, Sundance has always been a hotbed for horror and this year, Brandon Cronenberg's latest work has been making big waves. Starring the ever-reliable Mia Goth and Alexander Skarsgard, 'Infinity Pool' is particularly messed up. Without giving too much away, we'll just let the trailer do the work here. Also, watch 'Possessor' if you haven't already.
'Fair Play'
Snapped up by Netflix for close to $20 million, 'Fair Play' stars Alden Ehrenreich and 'Bridgerton' star Phoebe Dynevor in what reviews are comparing to erotic thrillers along the lines of Paul Verhoeven and Adrian Lyne. Full of sex, money, backstabbing, high finance and low morals, 'Fair Play' is exactly the kind of exquisitely made, guilty pleasure of a sexy thriller that we have been crying out for since they stopped making them.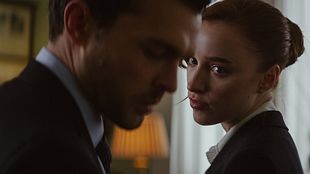 'A Thousand and One'
If ever there was a movie at this year's Sundance that'll probably end up in awards contention this time next year, it's 'A Thousand and One'. Directed by AV Rockwell, it stars Teyana Taylor as a young mother in '90s New York who steals her son out of the foster system and sets out to raise him on her own terms, against the grain of a city that's rapidly gentifrying and leaving its most vulnerable behind. Already there's Oscar talk for Taylor's performance, but even if that doesn't happen, this is still going to be worth paying attention when it comes time for a wide release.