Having hit cinemas back in 2003, 'School of Rock' has managed to capture the hearts of almost all who have watched it.
For those unfamiliar with the feature, 'School of Rock' stars Jack Black as Dewey, a slacker who after getting kicked out of his rock band, takes a job as a substitute teacher which was meant for his roomate.
Under the pseudonym Mr. S, Dewey starts to teach his students about rock'n'roll, turning them into a class band.
The kid cast of the '00s movie were very impressive.
They grew close making the movie, and have reunited on a number of occasions in recent years.
Cutest of all, it turns out former co-stars Angelo Massagli and Caitlin Hale are dating.
A Tiktok user went viral sharing the good news with her followers.
You can see Massagli and Hale in character as Frankie and Marta in the movie below.
While Frankie gets hired as "security" for the band, Marta is one of their back-up singers.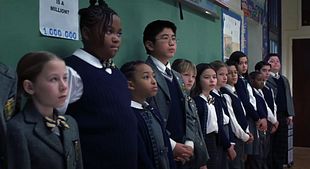 See the cute couple as grown-ups here.
The pair have been together since about 2018. While Angelo graduated from law school at the University of Miami in 2019, Caitlin is an OB-GYN Ultrasound Technologist.