Robert Englund has reminded audiences just how capable an actor he is with his memorable guest turn on the most recent season of 'Stranger Things', and now hotshot horror producer Jason Blum is confident he can bring Englund back to the role that made him famous.
Jason Blum has made a name for himself as the most in-demand horror producer in Hollywood, successfully championing the likes of 'Get Out', 'The Purge' franchise and the 'Halloween' remake series, and the producer has indicated he would like to have a go at rebooting 'A Nightmare On Elm Street' - with Robert Englund in tow.
'A Nightmare On Elm Street' was rebooted in 2010 with Jackie Earle Haley playing the scarred dream demon, and despite a healthy box office take, the film has been widely disregarded by fans and critics.
Should a reboot of the franchise happen, Blum would like to be involved and ideally, Robert Englund would return as the one and only Freddy Krueger.
Blum is confident he could make Englund come back despite his age, saying "I could get anyone back. I mean, Ellen Burstyn is 87 and I got her back for 'The Exorcist sequel'.
"He (Englund) is 75, he's young!" he told Screen Rant.
Englund played the iconic dream-invading monster in 8 films, starting with the original 1984 classic 'A Nightmare On Elm Street' (which is showing in the Lighthouse and Pálás Cinemas this summer) and ending with 2003's 'Freddy versus Jason'.
Englund has been adamant that he is too old to play the role again, but has donned the famous make-up and jumper for an appearance on 'The Goldbergs' back in 2018.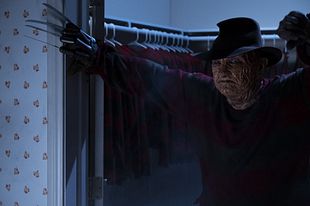 With the actor now introduced to a new generation of horror fans thanks to 'Stranger Things', it would not be surprising if Blum pitched Englund on doing one last outing as Freddy.
'Midnight Mass' and 'Doctor Sleep' mastermind Mike Flanagan has expressed interest in directing a new take on the franchise while Jordan Peele has openly discussed a fondness for the films of series creator Wes Craven.
The writer of the recent 'Scream' film Guy Busick has also said he would "love" to write a 'Friday The 13th' or 'A Nightmare On Elm Street' film, but any further progress on a possible new Freddy outing rests with the estate of Wes Craven.
The rights to the series reverted back to the Craven estate back in 2019, and they have final say on who gets to remake the iconic horror franchise.