Christopher Nolan's next film project, which he's penning the screenplay for and directing, is quickly gathering steam.
The title of the film is 'Oppenheimer' and a first look image for the movie has just arrived.
Not only that but it's just been announced that Kenneth Branagh - whose movie 'Belfast' is proving a hit this awards season, and who previously starred in Nolan's films 'Dunkirk' and 'Tenet' - has just joined the cast.
Cillian Murphy leads the ensemble as J. Robert Oppenheimer - the scientist who is considered to be one of the fathers of the atomic bomb, and who helped develop the bomb during World War II.
Also in the cast are a whole heap of stars: Robert Downey Jr., Matt Damon, Emily Blunt, Florence Pugh, Rami Malek, Benny Safdie, Josh Hartnett, Dane DeHaan, Jack Quaid, Matthew Modine, Alden Ehrenreich and David Krumholtz.
The film takes as its source material the Pulitzer Prize-winning book 'American Prometheus: The Triumph and Tragedy of J. Robert Oppenheimer' by Kai Bird and the late Martin J. Sherwin.
You can see Murphy in character below, and it's giving us very 'Peaky Blidners' vibes.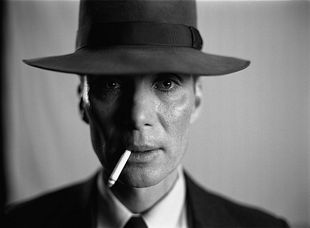 Warner Bros. will release 'Oppenheimer' on July 21, 2023.
The release date is around a fortnight ahead of the anniversary of the dropping of the bomb on Hiroshima.
Production starts this month in New Mexico.