The latest 'James Bond' movie, 'No Time To Die' has crossed €5 million at the Irish box office, making it the biggest hit since 'Frozen 2' took home €5.2 million in 2019.
Hopes were high for Daniel Craig's final outing as James Bond - for many, the return of Bond was seen as the first true blockbuster of the pandemic era - and those hopes were paid off with a strong box office haul.
The latest in the 'James Bond' franchise has crossed the €5 million mark at the Irish box office, making it the highest-grossing film in Ireland this year by a comfortable margin.
In its 4th week of release, the Cary Joji Fukunaga-directed film has proven itself to be a bonafide blockbuster, with the film on track to surpass 'Frozen 2', which was the last film to crack €5 million at the Irish box office prior to the outbreak of Covid-19.
2019 was a robust year for the Irish box office with the likes of 'Avengers: Endgame', 'The Lion King' 'Toy Story 4', 'Frozen 2' and 'Joker' all taking in well over €5 million euro, and now James Bond has proven that cinemas still have a role to play in the pandemic era.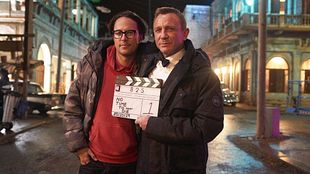 In Bond's native UK, the film has been performing as strongly as Craig's last two outings, 'Spectre' and 'Skyfall', with the film having just overtaken 'Avengers: Endgame' as the 5th biggest film in UK box office history.
'No Time To Die' is now the 5th-highest-grossing film in UK history, with the film holding solidly at the box office, and is tracking roughly with 'Skyfall' and 'Spectre' at the same stage of their box office runs.
As if the Bond's status within British culture was ever in doubt, three of the five highest-grossing films in UK history belong to the 'James Bond' franchise.
The final Daniel Craig outing has cleared €600 million worldwide and recently opened to a solid €25 million in China.
Producer Barbara Brocolli has recently indicated we will not hear about who has been chosen to replace Daniel Craig in the role until early next year.