The Amy Winehouse biopic is fast taking shape, with further details of the Sam Taylor-Johnson-directed film emerging in recent days.
'Back to Black' was announced last year and will see Taylor-Johnson take the reins on a film that has been mooted for years.
On Friday, despite much speculation regarding who might play the tragic singer - who died in 2011 at the age of 27 - a relative newcomer was announced in the lead role.
Marisa Abela, who has previously starred in BBC's 'Industry' and Sky series 'COBRA' will play Winehouse and filming begins this week.
It's believed that the 26-year-old Brighton native Abela was in talks to play the role as early as last summer - when she was also cast in Greta Gerwig's 'Barbie'.
Abela posted a picture of herself beside a mural of Winehouse, saying "And for London. This is for London. Cause Camden Town ain't burnin down. I love you, Amy."
The first image of Abela as Winehouse has also been unveiled...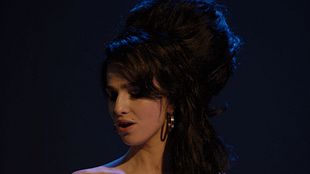 Speaking about the film last year, Winehouse's father Mitch said: "Ok. The film. Yes we do need this. At last the chance to portray Amy as she really was. It's also about money. We need money to keep Amy's wonderful charity going. Some people are not going to like it. Tough shit."
The film's screenplay will be written by Matt Greenhalgh ('Nowhere Boy', 'Control') and is co-produced by Alison Owens, mother of Lily Allen. Allen commented on Abela's Instagram post, saying "Can't wait."
The only other cast member announced so far is Ryan O'Doherty, who will play Chris Taylor, an early boyfriend of the star.