Love Actually was released ten years ago this week. TEN YEARS. So it's time we look back over this pretty damn amazing Christmas movie and see where everyone's been.
THOMAS SANGSTER - 'Sam'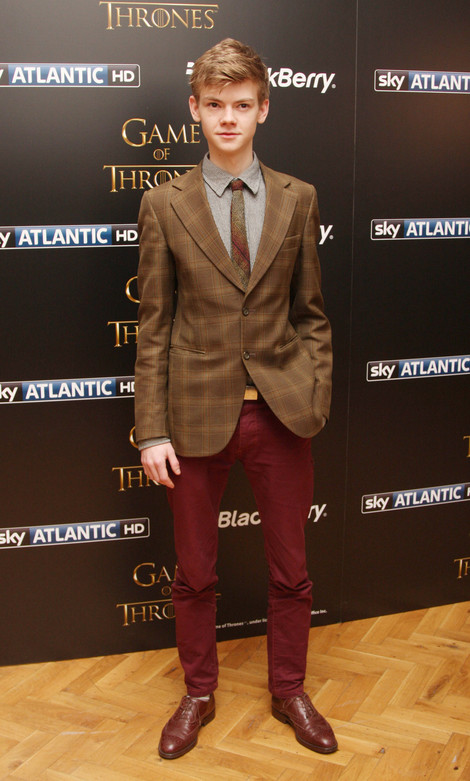 Yes, the little kid from Love Actually has grown up - kinda. He's currently playing Jojen Reed in Game of Thrones and doing a good job being creepy. He's also just finished a pilot for a live-action TV remake of Thunderbirds, as in the marionettes Thunderbirds thing with the countdown! Remember that? That actually sounds really cool.
BILL NIGHY - 'Billy Mack'
Look at this GQ motherf*cker right here. Love those glasses, Bill. Looking fresh to death. Bill Nighy has been active since Love Actually, putting in performances in Hot Fuzz, Pirates of the Carribbean and one of our favourite films of 2013, About Time. Not bad, mang.
COLIN FIRTH - 'Jamie'
Apparently, he's been dropping weight for an upcoming role. That said, he does look a bit ill in this picture. Anyway, Firth has been doing pretty well for himself in the last while. He's starred in Oscar-laden drama The King's Speech, underrated spy thriller Tinker Tailor Soldier Spy and he'll be voicing - wait for it - Paddington Bear in the upcoming film. Yeah. We know. They're making a Paddington Bear film. Amazing. It's getting a pre-emptive five stars right now.
LIAM NEESON - 'Daniel'
So, mancave Spirit Animal™ Liam Neeson has gone from charming Irish character actor to full-blown action star badass. He's trained fucking Batman in Batman Begins, destroyed half of Paris in Taken, fought wolves and had existentialist journeys that symbolise manhood in The Grey, been a Greek god in Clash of the Titans and is set to have a voice role in the upcoming Lego Movie. Look at those eyes. We could get lost in them.
EMMA THOMPSON - 'Karen'
Look at this photo of Emma Thompson. That's how Emma Thompson's been doing since Love Actually. She's been in Harry Potter as our favourite professor, Sybil Trelawney. She's written and starred in kiddie's favourite Nanny McPhee and she's even had a guest slot in QI with Stephen Fry where she was just high-larious. Did you know that Stephen Fry pretty much got her the Oscar for Sense & Sensibility by fixing her computer that had the script on it? Watch that episode of QI on Netflix. It's amazing. Her upcoming film, Saving Mr. Banks, is due out soon and we pretty much loved it.
CHIWETEL EJIOFOR - 'Peter'
Love Actually was the first major film that Chiwetel Ejiofor starred in, racking up some TV performances up until then. With 12 Years A Slave get a whole mess of Oscar buzz, we can predict that he's going to be HUGE in 2014. Anything we've seen in him since Love Actually's been pretty great - Serenity, Inside Man, Children of Men, American Gangster - all pretty great films.
ANDREW LINCOLN - 'Mark'
Since Love Actually and that scene with the cards, Andrew Lincoln's been avoiding romantic comedies / dramas like the plague. Speaking of plagues, he's been pretty awesome in The Walking Dead. 
HUGH GRANT - 'Prime Minister'
Although he's never been off the radar since Love Actually, we do think Hugh Grant is starting to look like he could pass for a BBC / Channel 4 newsreader. He's got that distinguished, older British gentleman look.
MARTINE McCUTCHEON - 'Natalie'
How's Martine McCutcheon been doing since Love Actually? Not great, unfortunately. Most recently, she's been declared bankrupt and then splashed out on £500 hair extensions - see above - and has been battling depression. Her last theatrically-released film was, sadly, Love Actually.