Actors can tend to have a shelf life in Hollywood; they can topple from A list to B list like *that*. But not Julie Andrews.
A Queen in many rites ('The Princess Diaries', 'Shrek' and, well, life) Julie Andrews has had one of the most sustained and eclectic careers in showbiz. One minute, she's an all-singing, all twirling Nanny and the next, she's a head fairy that rules over Dwayne Johnson. There's nobody more fitting for an AFI Life Achievement Award and thankfully, she's finally getting hers today.
She's an international treasure with 6 Golden Globes, 3 Grammys, 2 Emmys, a rose named after her, and, once upon a time, a four-octave soprano. Bestowing us with lines like "A queen is never late, everyone else is simply early" and "well it's alright to cry. It helps a great deal sometimes" she's been a prominent voice for so many.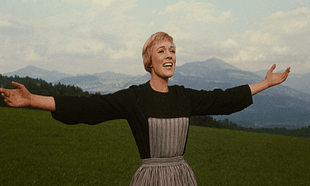 But there was one quote that she told The Hollywood Reporter about recently that sustained her throughout her seven decade long career. At the very beginning of her stage career when she was singing at the London Hippodrome, her mother gave her the advice that would guide her in Hollywood.
She recalls her mother telling her at the age of 12, "Remember, there's always somebody in the wings that can do it better than you. And just be grateful for what you get". She explained, "that was a very good piece of advice at that time. I've had several other wonderful pieces of advice, but that was the very first one".
Of her first day onset with Mary Poppins, Andrews remembers feeling nervous — an inconceivable notion for us to digest in the face of the fully fledged film paragon she is now. But she thinks back on that time, "I would say hugely daunting. I remember all I had to do was walk across from right to left or something like that and say one line".
Honestly, sometimes the simplest advice is the best. If that's what has helped Andrews reach such a level of greatness, we'll be reminding ourselves of her mother's advice now too.
It's no spoonful of sugar, but would you take Julie Andrew's mother's advice?