With rumours swirling about who will be the next James Bond, Henry Cavill has done the next best thing - star in his own spy film!
'The Witcher' star is playing the part of Argylle for director Kingsman director Matthew Vaughn, with the film due for release in 2023.
The first official image from the film shows Henry Cavill dancing with pop superstar Dua Lipa, who is making her acting debut in the film.
'Argylle' follows the story of a super spy who comes down with amnesia and is convinced he is a best-selling spy novelist, only for his memories to come flooding back.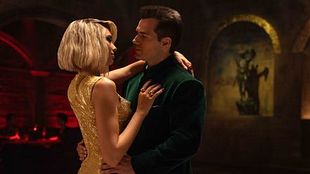 The film has a star-studded cast, with John Cena, Bryan Cranston, Catherine O'Hara, Samuel L Jackson, Sam Rockwell and the Oscar-tipped Ariana DeBose among those in the line-up.
Cavill has often been floated as an ideal candidate to play James Bond, with the actor reportedly nearly chosen for the role as far back as the 'Casino Royale', but the 'Man Of Steel' actor has chosen to play a different spy for Matthew Vaughn.
Vaughn is an avowed fan of the Bond franchise, with the 'Kingsman' director stating last December he's a huge fan of the franchise, but is confident his spy outing will satisfy fans of the genre.
"Bond has obviously a huge influence on me, but you wait until you see Argyle," the director said last December.
"Henry Cavill, that man was born to play Bond. When you see how he is in this film, I was just like, 'Wow, this guy is everything you'd imagine Bond to have been, or be.'"
While 'Argylle' won't be hitting our screens until 2023, Vaughn's latest film 'The King's Man' is streaming on Disney+ now, and Cavill will next be seen on our screens in 'Enola Holmes 2' which will debut later this year.