There's a few comparisons to be made between last night's utter debacle and the 45th Oscars, which saw Sacheen Littlefeather refuse the Oscar for Best Actor on behalf of Marlon Brando.
For one, violence was in the mixture of it. John Wayne reportedly had to be held back by several men in the wings to stop him from attacking Sacheen Littlefeather, who was dressed in traditional Native American wardrobe. The Oscars was also going through a crisis of relevancy, owing to the fact that the ceremony had just recently begun being televised. George C. Scott had just two years prior also refused an Oscar for the same category. Although his refusal was much less scandalous or attention-grabbing, Scott's arguments in a way mirrored Brando. Scott declared the Oscars to be "a meat parade" and had strenuously argued that actors should have no competition with one another. Brando simply wanted to use his win to further the cause of AIM and the media blackout of the occupation of Wounded Knee by members of the group.
This time around, however, Will Smith wasn't trying to divert attention to a wider issue or cause, but simply wanted to hit Chris Rock for insulting his wife's medical condition. While the causes are different, no doubt that the passions are the same. Argue all you want about whether Will Smith was right or Chris Rock was wrong, but the fact remains that the Oscars this year was a shit-show and it's been a shit-show for the past few years now. Everyone remembers the 'Moonlight' fiasco. Kevin Hart's non-hosting of the Oscars is still in recent memory. The annual report about the ratings of the Oscars plummeting through the floor is sure to follow in the next few hours, despite the fact that the Oscars is the trending topic on Twitter globally right now.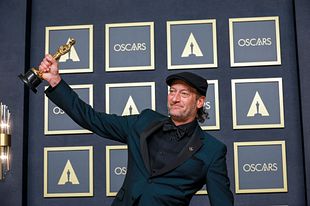 'CODA', 'The Power of the Dog', 'The Eyes of Tammy Faye', and 'Belfast' are all widely available to watch. If you've got a Netflix subscription or a Disney+ one, you can watch two Oscar-winning movies right this very moment. If you kept your Apple TV+ subscription going, you can check out 'CODA' too. Yet unless you're a salty veteran of Oscar season or an out-and-out movie buff, chances are you'll have skipped either one or perhaps all four of these movies. Audiences today are inundated with choices when it comes to movies, television, and music. Critics and tastemakers like ourselves do what we can to guide audiences to what we feel is the stuff worth watching, but ultimately our work is tempered by algorithms both on social media and on streaming services. Even if the streaming service is ramming their Oscar-tipped favourites down your throat every time you log on, are you still going to sit down and watch it? The odds of people seeing them are better, yes, but the completion rates and the after-audience reports are likely to tell another story entirely. This is borne out in raw data too. A Morning Consult survey of this year's Best Picture nominees found that 'Dune' and 'West Side Story' were the two most well-known by audience members. As you'd expect, 'Dune' and 'West Side Story' were also the best-performing at the box office too.
So, to attract more viewers, the Oscars this year added a new category of sorts in the #OscarsFanFavourite, which of course became a hotbed for social media campaigns by zealots who frequently work Twitter's trending topics to get their demands to the top of the food chain. The winner of this not-really-a-thing was Netflix's 'Army of the Dead', directed by Zack Snyder, whose fans are adept at this. They managed to manifest an entire studio in changing the course of his last major movie and giving him a chance to release it as a new cut. Was it a real Oscar win for Zack Snyder, however? Of course not. It was a participation trophy at best, something designed to attract social media attention to a ceremony desperately fighting for relevance in the internet age.
Yet, what's fascinating to watch with the Oscars is that every time it tries to struggle and reach for relevance, it only succeeds in further alienating itself from audiences and making things worse. Think about it - all the furore about the slap came about because a world-famous comedian insulted the wife of one of the most recognisable, well-paid actors in the world at the most prestigious awards ceremony in their industry. There is no way anyone reading this can relate to that unless they're Will Smith or Chris Rock. When the Oscars try to bend social media to its will, it slaps back at them. They owned every square metre of social media last night, but none of it was what they wanted.
What's more, this year's Oscars was the first where it had no competition from the Golden Globes. After that ceremony disappeared into obscurity following a very public reckoning with its horrendously flawed management of, well, everything, this year's Oscars had a chance to prove why it remains a fixture and elevate itself in some way above the morass. That didn't happen.
Moreover, the sheer chaos of last night's ceremony outside of all the bullshit with Smith and Rock just laid bare at unnatural the Oscars has become. Samuel L. Jackson received his honorary Oscar, yet the thing was relegated to a pre-taped segment, as were most of the craft and technical awards and the performances. The tighter the grip becomes, the more it slips away from them and the more it becomes apparent that the Oscars are sinking to desperate measures to stay relevant and stay afloat.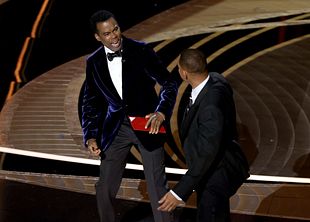 After the 45th Oscars, the Academy issued a decree which prevented any winners from sending a proxy in their place. The event was not referenced in the following ceremony, and the incident passed into the rich history of Oscar malfunctions and awards ceremony dramas. 49 years later, it's still here and the likelihood is that the Oscars will still remain in 49 years' time if society hasn't collapsed and movies are still around. Yet the desperation, the utter inability to let go of its need for validation and its constant chasing of ratings, doesn't have to be.
Last year's Oscars was the cleanest and most efficient it's been in quite some time, and if the Academy truly wants to return to a time when the Oscars were about the work and not the drama, this is how they can go about it. The only problem was it was a complete non-event in terms of excitement on the lead-up to it and in reactions afterwards. 'Nomadland' had a clear path to victory laid out months beforehand, and there was no upsets on the night. It went like clockwork. It was the worst ratings for the Oscars since it began being televised.
Ratings are no measure of what makes a successful Oscars nor should they ever be, but will what happened last night impact next year's Oscars? Will more people tune in hoping to see another slap? What's most likely to happen is Chris Rock will be asked to host next year and he'll spend the first ten minutes making jokes about last year's ceremony. You'll probably see Will Smith laughing and smiling about it in the crowd too, or he may even get in on an opening sketch about it. Things will move on, there'll be another fiasco, and the Oscars will move further and further into people watching it to see if somebody messes up than actually for who wins. The movies themselves will be even further down the line.
In the end, what will it all have been for? Just good television? There's enough of that already.