Smithfield Square in Dublin was all a-gaggle last night at the Irish premiere screening of the new Netflix film 'The Wonder'.
The premiere screening was attended by Oscar-winning film maker Sebastián Lelio, plus most of the cast including Niamh Algar, Elaine Cassidy, Kila Lord Cassidy, Dermot Crowley and Emma Donoghue. And of course, there was also the woman of the moment - Florence Pugh - who said the first thing she did when she landed in Dublin was to have a pint of Guinness.
Irish fans who were lucky enough to attend the premiere were in their element as Pugh and the rest of the cast walked the red carpet, posing for videos, photos, BeReals, asked what her favourite Taylor Swift song is, and even creating tattoos? Yes, you better believe it.
She also said she and the team headed for meals at Delahunt on Camden Street on a number of occasions, so expect the place to be packed out for weeks thanks to the 'Don't Worry Darling' and Marvel star.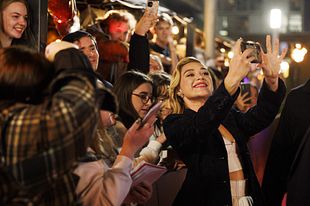 Florence Pugh was in Dublin and Wicklow last year shooting the Netflix film which is adapted from the bestselling novel by Emma Donoghue, and inspired by true stories of the "Fasting Girls" phenomenon.
The film is set in 1862, 13 years after the Great Famine, and sees Pugh star as an English nurse, Lib Wright, who is called to the Irish Midlands to uncover a mysterious happening - an 11-year-old girl Anna (played by Kíla Lord Cassidy) claims not to have eaten for four months. As Anna's health rapidly deteriorates, Lib is determined to unearth the truth, challenging the faith of a community that would prefer to stay believing.
'The Wonder' will be in Irish cinemas from November 2. It will be available on Netflix from November 16.