We've gathered together all the details we have about the cast, plot and release date that we can. Here's everything we know so far.
Plot
The 2017 'It' movie is based on the 1986 novel of the same name by Stephen King. The book is divided into two time frames. 'Chapter 2' follows the later period of the novel.
Set in a town called Derry in the year 1988 (rather than the novel's 1950s setting), 'It' follows a group of seven children who are terrorised by Pennywise the clown (Bill Skarsgard), a shapeshifting clown who is able to take the form of the kids' worst nightmares. They manage to beat him but have no guarantee that he won't return so they make a vow to return to Derry in adulthood if 'It' returns, to destroy the creature once and for all.
As the book goes, 'It' does return and takes more child victims, prompting the 'Losers', now all grown-up, to fulfill their promise. The sequel takes place 27 years after the events of its predecessor.
According to the official synopsis from Warner Bros, "a devastating phone call" forces them into action. It has "returned stronger than ever and is awaiting their arrival, waiting to exact its wrathful vengeance on them."
Cast
Fans of 'It' were delighted to hear that the young actors of 'It' would all be returning for 'Chapter 2'. Jaeden Lieberher (who played Bill), Sophia Lillis (Beverly), Jeremy Ray Taylor (Ben), Finn Wolfhard (Richie), Chosen Jacobs (Mike), Jack Dylan Grazer (Eddie), and Wyatt Oleff (Stan) will feature in flashbacks in the sequel.
James McAvoy, Jessica Chastain, Jay Ryan, Bill Hader, Isaiah Mustafa, James Ransone, and Andy Bean respectively play the adult versions of their characters.
An image of them altogether at a table read dropped last July.
Other cast members confirmed for the film include Jess Weixler ('The Good Wife'), as Bill's successful actress wife, and Teach Grant. Grant will portray the grown-up version of local bully Henry, with 'It' actor Nicholas Hamilton returning to the film as the young version of his character.
Jackson Robert Scott, Will Beinbrink, Xavier Dolan, Taylor Frey and Jake Weary star in supporting roles.
Crew
If you loved the first 'It', then good news! 'It' director Andy Muschietti returns to helm the sequel. Gary Dauberman, who wrote 'Annabelle' and 'The Nun' as well as being a co-writer on 'It', adapts the screenplay from King's novel.
Both are keeping tight-lipped about the horror sequel. However Muschietti has expressed hopes that two cut scenes from the first film - one of which is the fire at the Black Spot that features in King's book - will be included in the second.
Any behind the scenes pics?
There have been a few, but don't expect any spoilers here!
Trailer and poster
As of yesterday we finally have an official trailer and poster for it.
View them both below, if you dare.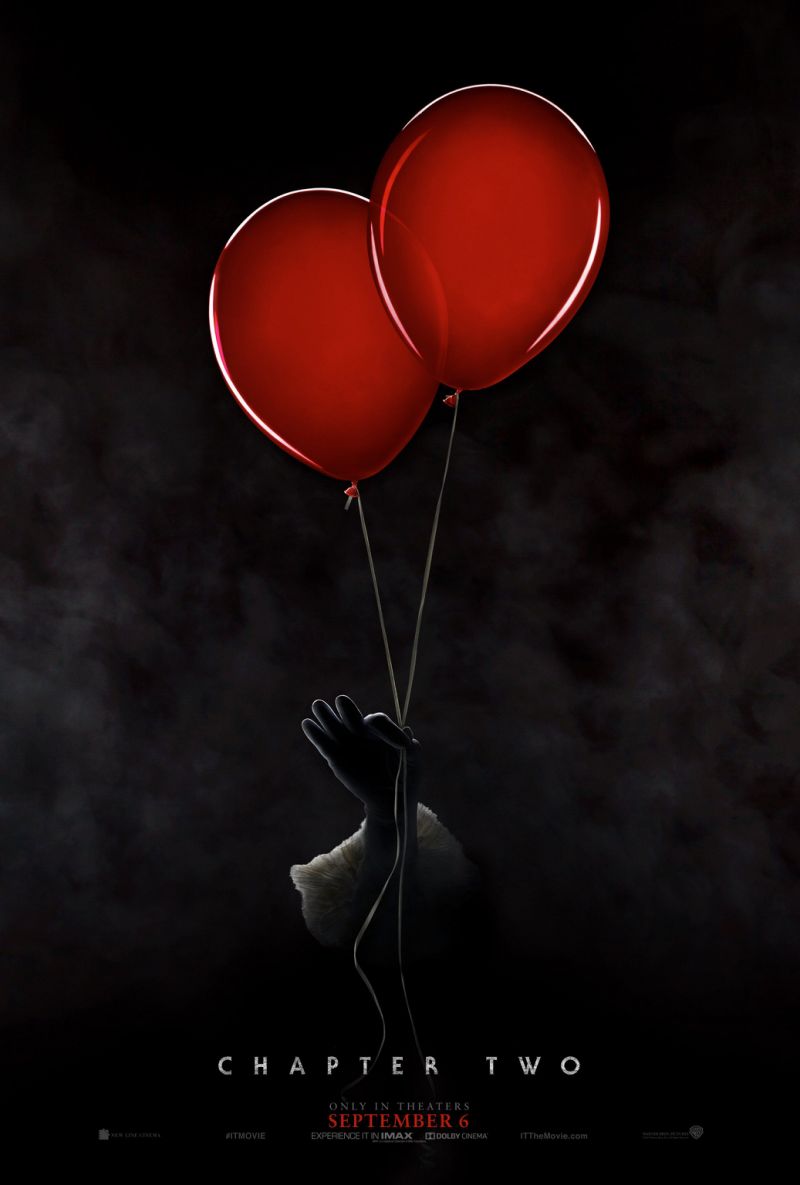 Release date
'It Chapter 2', aka 'It: Chapter 2', hits cinemas on September 6, 2019.