The much-loved actor and recent addition to the MCU has spoke out about the recent war of words between cinema purists and Marvel fans.
In an interview with Indiewire, the 51-year-old mentioned comments from Martin Scorsese back in 2019 where he said that Marvel movies were "not art."
The 'Moon Knight' star said, "If people like Scorsese and Coppola don't come out to tell their truth about how there are more important things than making money, who's going to?"
However, he also added, "If you keep reviewing these movies that are basically made for 14-year-olds like they're 'Fanny and Alexander' or 'Winter Light', then who the hell's going to get to make 'Winter Light'?
Hawke stars alongside Oscar Isaac in 'Moon Knight' as the enigmatic Arthur Harrow. Isaac convinced him to join the show after a chance encounter at a New York coffee shop.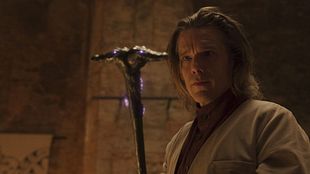 Expanding on the MCU, Hawke admitted, "that group of people is extremely actor-friendly. They might not be director-friendly, and that could be what Scorsese and Coppola are talking about. But they love actors."
Hawke also credited his daughter, 'Stranger Things' star Maya Hawke, for convincing him to take a chance on Marvel. "Maya would say to me, 'Why are you sitting on the outside and telling everyone their sandbox is bad? Why don't you go into their sandbox, play with them, and show them what you have to offer?'"
However, the four-time Academy award-nominee is certainly not ready to commit a long-term future to the MCU. "I'm not interested in long-term commitments."
With Hawke adding fair points for both sides of the argument, it looks like the discussion is destined to rage on.
Hawke most recently starred in 'The Black Phone', still showing in cinemas.