Praise has been pouring in for Olsen as the new Wanda in the second 'Doctor Strange' movie. The actor talks to Variety about the depth of playing such a dark character.
Marvel Studios really f*cked us up when, in a field of beautiful white blossoms, Wanda accidentally revealed to Doctor Strange that she was sending one-eyed monsters to steal America Chavez's (Xochitl Gomez) powers so she could kill other-universe Wanda to be reunited with her (not her) kids. In short: she revealed that she's evil.
Casting the sweet witch as a villain for the film was a brave move, but the way Elizabeth Olsen captivated us with her dark sorcery was nothing short of sublime — a massive payoff for the franchise who surprised Olsen with the character development too.
"I knew I was going to be in 'Doctor Strange', but I thought I was going to be, like, in an ensemble thing," she bursts out laughing, "I think I was nervous and conflicted because I hadn't finished 'Wandavision' yet".
Never have we seen such poisonous humanity in a Marvel villain before. Even though she plays this force of darkness, people can empathise with her — especially parents.
Her eyes simultaneously glow with ember-red rage and glisten with painful tears throughout the film, in a way that shows us that even though she's the villain here, she hasn't completely shrugged the Wanda that we've known from her Disney+ series.
Olsen explains it, "It was an amazing opportunity to have people be won over by this woman in 'Wandavision' and feel for her," screwing up her face, "and then, you know, manipulate them into this film".
Juxtaposing her roles in the TV series and the film, she wanted to make sure that there was progression in Wanda's story, "I just wanted to make sure it was a constant evolution forward and not repetitive".
If you've seen the new 'Doctor Strange', you can agree that the story most definitely was pushed forward, even leaving room for the return of Wanda (as we once knew her?) despite her defeat by America Chavez.
When asked "How did it feel to kill all of those characters?", Olsen's face tells us everything. She winces, "I had a hard time with it". But she goes on to explain that she was actually meant to kill more characters than just Professor X, Mr Fantastic, and Captain Carter.
She really cemented herself as the Scarlet Witch, pushing past any feelings of discomfort about, you know, murder.
"I just had to buckle down and think all these people are in her way, she's warned Doctor Strange not to get in her way and he did and he didn't listen".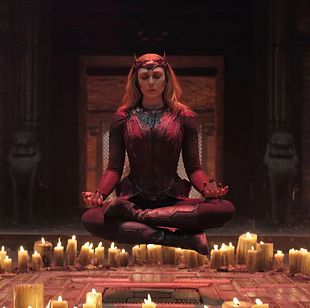 On the topic of difficult scenes, Olsen reveals how she conjured up so much rage towards her onscreen children, whom she loves, and it's not the response we were expecting.
"One of the little people, the little people who I love, they were throwing things at me in the scene and accidentally smacked my face really hard and that was the best reaction".
"I felt so bad" she continues in a half giggle, half cringe, "they were terrified after and it really, that was something I did not enjoy at all but I knew would be good for the scene".
When asked if she'll be back on our screens as Wanda, Olsen laughs about how she's assuming that yes, she will be back even though nobody has asked her to come back yet, "I hope there's more fun to be had and something different".
'Doctor Strange in the Multiverse of Madness' is out now in cinemas across Ireland.