3 roles of Elisabeth Moss & how they speak to the zeitgeist
Elisabeth Moss has taken on some fascinating roles of late that are really speaking to the times we're living in.
Commencing her career in the 90s, some of Elizabeth Moss's early roles included 'Girl Interrupted' and 'The West Wing'. But she really came to the forefront playing Peggy Olson in 'Mad Men'.
Since then she has starred in such highly acclaimed movies and shows as the satirical 'The Square', horror movie 'Us' and mystery drama 'Top of the Lake'. Indeed the latter sees her play a detective who specialises in sexual assault and who was the victim of gang rape as a teen. Three of her more recent roles have similarly involved playing women victimised by abusers who take charge and get back.
Last year's 'The Kitchen' would be a prime example of one such role wherein Moss plays Claire Walsh, a timid woman who is beaten by her husband, Rob. When he goes to jail, she and two other women (played by Melissa McCarthy and Tiffany Haddish) continue to operate and eventually take over their husbands' rackets.
Claire is not only inspired to leave her husband, she also takes a lover in Gabriel O'Malley (Domhnall Gleeson). She learns to shoot and cut up and dispose bodies from him. She becomes an enforcer for the gang alongside Gabriel and even kills her husband. However she is eventually killed off by a young gang member after a hit is put out on her.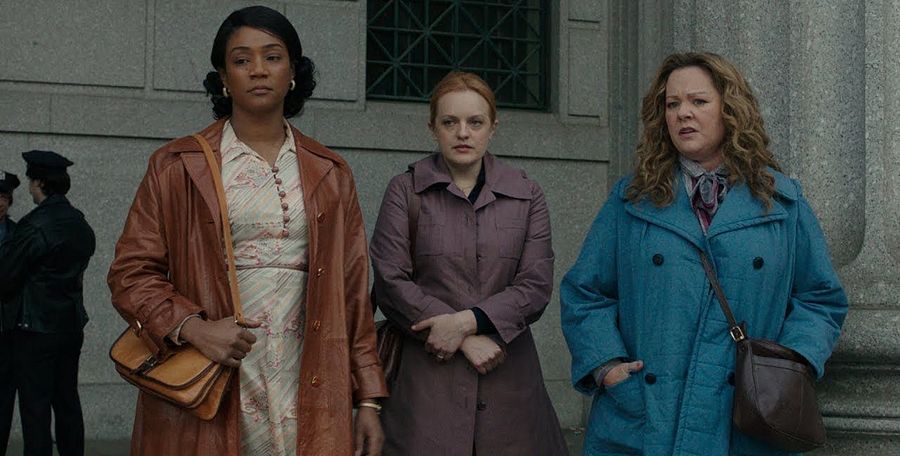 The Kitchen
Moss's most recent movie is 'The Invisible Man', in cinemas on Friday. In it, she plays the victim of an emotionally and physically abusive partner who continues to haunt her even in death.
'The Invisible Man' has been read as a fresh take on gaslighting and domestic abuse. Generally it's something of a conventional horror which ends with the 'final girl,' a la Ellen Ripley or Sarah Connor, confronting the "monster" head-on.
The Invisible Man
Then there's of course 'The Handmaid's Tale' which would be up there among the best shows of the 2010s. It depicts a totalitarian society named Gilead where fertile women, called "Handmaids" are forced into child-bearing slavery.
Moss plays its protagonist, June, who continually rebels against the system in big and small ways. She smuggles her baby out instead of giving it to her "parents"; she also helps her friend leave and in her latest act of revolt, helps dozens of children escape Gilead.
Having been the continuous victim of emotional and sexual abuse, she maintains incredible strength and dignity, though you wonder how it could all pan out for her in season four.
The Handmaid
Elsewhere in 2019 there were action movies with strong, kickass women who don't take any sh**, like 'Captain Marvel', 'Star Wars: The Rise of Skywalker', 'Alita: Battle Angel', 'Charlie's Angels' and 'Terminator: Dark Fate'. But Moss's roles signify a very different woman, one who is weak, vulnerable, fearful and fragmented. She is initially lost and trapped in a world run by controlling, abusive men, and fighting for survival. But she takes back control, and asserts herself in a decision she makes alone.
We got an opportunity to ask Elisabeth Moss about the similarities of her characters in this respect, and she reflected: "For sure. It does seem like a lot of that, doesn't it?"
She continued: "I think our film and television, and art in general, whether it's music or literature or whatever it is, tends to start to reflect what we're talking about, right? It starts to reflect what we're feeling.
"And I think as women we are exploring that right now because it's what we're thinking and we're talking about. I started it in 'Mad Men' in a different kind of way. But 'The Handmaid's Tale' kind of coincided with a political movement obviously in my country; and then [there was] Me Too and Time's Up so we are sort of talking about it a lot. I feel like the projects that I am attracted to right now are kind of a part of that conversation."
There was a step forward for Me Too and Time's Up this week with the news that disgraced Hollywood mogul Harvey Weinstein was convicted in court, having been the subject of dozens of sexual harassment and assault claims. The women were thanked for their bravery in coming forward.
It leads us again to that age-old question of does art imitate life or vice versa. In any case, this spiritual threequel of performances from Moss has caught on the zeitgeist, speaking volumes to our current era.