Aubrey Plaza has revealed that her friend, director Edgar Wright, was convinced she was cast in the lead role for 'Tomb Raider'.
Speaking with Jimmy Fallon this week, Plaza talked about a photoshoot for the front page of MovieMaker magazine convinced Wright that she had landed the role of Lara Croft.
The cover actually showed Plaza in the lead role in 'Emily the Criminal'. The upcoming drama is about a woman who turns to crime after racking up student debt.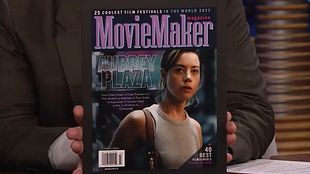 "My friend Edgar Wright actually saw that and texted me and said, 'Oh my god, you're the new Lara Croft? You're the new Tomb Raider?'" said the 38-year-old. "And I was like, 'No, Edgar. That's my movie, 'Emily the Criminal.'"
Plaza added, "And he genuinely thought I was cast as the new 'Tomb Raider'. And then I looked it up and they actually are casting this role right now. And I was like, 'Well there you go. The new Tomb Raider, whatever.'"
The stars now seem to have aligned with casting underway and we certainly would love to see Plaza become the new Croft. Maybe this was her soft launching her audition for the role.
The first film adaptation of the successful video game series starred Angelina Jolie in the main role. A reboot then cast Alicia Vikander as Croft, which was supposedly getting a sequel. However, the window of opportunity passed for it to get greenlit and the rights reverted back to the gaming company, Square Enix.
The Wrap reported in June that a bidding war for the film rights had begun, creating multiple rumours of who will be cast as Lara Croft.
Watch the full clip below.