Grab your dice and as many snacks as you can carry - we're going on an epic adventure.
We're on board with this. The first 'Dungeons & Dragons: Honor Among Thieves' trailer has dropped overnight, and it looks like its going to be a jolly good adventure.
The fantasy film, based on the popular RPG board game, will see a group of mismatched thieves pull of a heist for a hefty reward - only to realise that maybe their reward wasn't nearly enough to justify the potential end of the world. And so, they're going to have to use all of their valour, wit and fantastical individual abilities to stop that from happening.
The world debut of the trailer was dropped at the San Diego Comic-Con yesterday, where we also got our first look at the main cast of the film.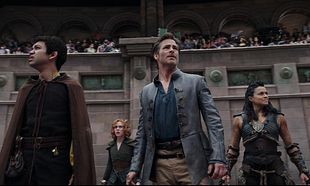 Chris Pine will play the Bard, Elgin; Michelle Rodriguez is the Barbarian, Holga; Regé-Jean Page is the Paladin, Xenk; Justice Smith is the Sorceror of the group, Simon; Sophia Lillis is the shape-shifting Druid, Doric; while Hugh Grant plays the dastardly Rogue named Forge Fletcher.
The trailer shows off lots of mythical beasts associated with the D&D world, including dragons, a Displacer Beast, a Gelatinous Cube and something called a Mimic - a chest that you might think is full of treasure, but it'll actually just eat you. Lovely.
Here's the 'Dungeons & Dragons: Honor Among Thieves' trailer, which is set to Led Zeppelin's 'Whole Lotta Love'.
The official synopsis for the film is as follows: A charming thief and a band of unlikely adventurers undertake an epic heist to retrieve a lost relic, but things go dangerously awry when they run afoul of the wrong people.  Dungeons & Dragons: Honour Among Thieves brings the rich world and playful spirit of the legendary roleplaying game to the big screen in a hilarious and action-packed adventure.
Entertainment Weekly chatted with directors John Francis Daley and Jonathan Goldstein to talk about the trailer. Goldstein said the band of characters appearing in the film: "It was important to us to have characters who reflect the kinds of characters that you have when you're on a campaign in the game. You roll for the various characteristics and you don't always roll a 20. And so our characters clearly roll four on certain aspects of their personalities."
'Dungeons & Dragons: Honor Among Thieves' hits cinemas in March 2023.