Ever since it was announced that Amazon will be going behind-the-scenes at Arsenal, excitement has reached fever pitch among Arsenal and non-Arsenal fans alike.
Oscar-winning star Daniel Kaluuya, best known for his roles in 'Get Out', 'Black Panther' and his Oscar-winning turn in 'Judas And The Black Messiah', will serve as the narrator for the upcoming documentary.
Ever since breaking out into superstardom with his role in 'Get Out', Kaluuya is no stranger to horror as Arsenal's current season has shown.
With the race for the title and Europe going down to the wire, Kaluuya will lend his voice to what is set to be a dramatic end to the season for Mikel Arteta's team.
It's been a topsy-turvy season for Arsenal, with the North Londoners possibly losing out on the final Champions League slot to bitter rivals Tottenham Hotspur, and losing talisman Pierre-Emerick Aubameyang to Barcelona in January.
Arsenal will discover their fate on Sunday as to whether they will be playing in next season's Champions League or not.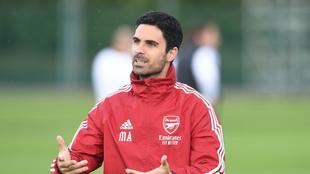 Regardless of Sunday's outcome, football fans have been advised to stockpile the popcorn for when the documentary drops on Prime Video later this year.
The 'All Or Nothing' series has proven incredibly popular on the streaming service, with previous documentaries about Manchester City and Tottenham Hotspur being very well-received and inspiring plenty of soundbites from Pep Guardiola and Jose Mourinho.
Kaluuya isn't the only Oscar-winning star to narrate the high and low points of a teams season for Amazon, with Ben Kingsley narrating the Manchester City version of 'All Or Nothing'.
Aussie tough guy and lifelong Leeds fan Russell Crowe narrated 'Take Us Home' about Leeds United's return to the Premier League, while Tom Hardy lent his distinct voice to the Jose Mourinho era at Spurs.