Ahead of his final outing as 007, Daniel Craig has spoken about how the script for 'Casino Royale' caught his attention.
Having played James Bond for fourteen years, and only a few months out from 'No Time To Die', it's hard to imagine that Craig nearly didn't accept the role in the first place. In an interview with Empire, Craig reveals that he only signed on when the producers convinced him that he could take the character in a different direction to his predecessor Pierce Brosnan.
"One of the biggest reasons I did Casino Royale is the line, 'A vodka martini, please.' 'Shaken or stirred?' My reply was written in the script as, 'Do I look like I give a f*ck?' And that's it. That's the reason I did it. Because what I could not do, and what I refused to do, was repeat what had gone before. What was the f*cking point? So I'd rather have just one and gone, 'OK, swing and a miss… Tried my best," he told Empire.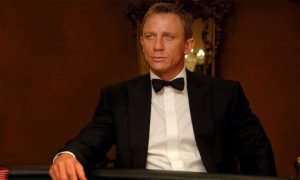 'No Time To Die' was co-written by 'Fleabag' creator Phoebe Waller-Bridge and also stars Ralph Fiennes, Naomie Harris, Ben Whishaw, Léa Seydoux, Christoph Waltz, Ana de Armas, Lashana Lynch, and Rami Malek as the villain.
It hits cinemas on April 8th, 2020. Watch the trailer below.