Gorr the God Butcher wasn't really as "family friendly" as we saw in cinemas.
The Christian Bale character in 'Thor: Love and Thunder' could have been R-rated if the actor had his way. It turns out Bale filmed some Gorr the God Butcher scenes for the newest Marvel Cinematic Universe release that even made his co-star think was taking it "too far".
Taika Waititi's latest Marvel offering was heavy on the laughs but also heavy on the presence of a dark and sinister new villain in the form of the God Butcher. In the comics, Gorr and Thor are physical matches, with one being just as big as the other in terms of brute force and muscle size. However, Bale, who hasn't had to bulk up for a role since playing Bruce Wayne in 'The Dark Knight Rises', knew that his character needed a different tact in order to take on Chris Hemsworth and his floating bicep cannons.
In an interview with Inverse, the actor said: "I said to Taika Waititi, the director: 'Mate, we got to have a whole different take. It's got to be shadow monsters and dark matter powers. Have him be skinny and waiflike and apparently no match for Thor'. But that's the point. He doesn't need physical strength. He has supernatural strength."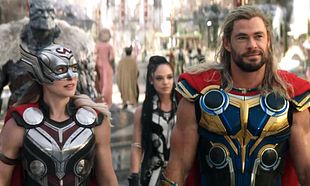 Indeed, Bale's version of Gorr was one of the most nefarious yet tragic villains in the MCU thus far. A man who wanted to avenge the death of his family and revive his daughter, his wicked and woeful ways of getting to Thor were spine-chilling, to say the least. But Bale wanted to go much further.
He continued: "With 'Thor: Love and Thunder', Taika and me, we kind of knew that some of the stuff we were doing probably wouldn't end up in the film, but we wanted to just push it and see. Ultimately, it is and should be a film that all the family can go and enjoy.
"And Chris Hemsworth, a couple of times he looked at me it was like, 'Dude, that's a little too far. I don't think anyone's gonna want to see that unless it's an R-rated film'. But it was a great joy to give it a shot. And we had a lot of fun in there doing certain scenes and takes on certain scene choices, even if they didn't end up in the final cut."
Will we ever see these R-rated moments from Christian Bale? Probably not, unfortunately. We'll just re-watch 'American Psycho' again for some bloody and sadistic Bale horror instead.
Watch 'Thor: Love and Thunder' on Disney+. 'Amsterdam' is in cinemas from October 7.