'Bioshock', the mind-bending first-person-shooter is getting the Netflix treatment.
Netflix is teaming up with developers 2K and publisher Take-Two Interactive to make a film adaptation of the hit game.
The game, which debuted in 2007, was a critical and commercial hit, with fans and critics alike lauding it for it's deep, twisty story and unique underwater setting.
No word as of yet on a director, star or even what game in the series is being adapted, but this is not the first time a 'Bioshock' film has been adapted.
'Pirates Of The Caribbean' director Gore Verbinski came remarkably close making a version at Universal Studios, before the plug was pulled on the project owing to the economic downtown of the late 2000s, a sky-high budget, and concerns over the films R-rating.
Verbinski said "the combination of the price tag and the rating," and a number of failed R-rated films in the market at the time of production soured Universal on the film.
In a Reddit AMA in 2017, Verbinski said "we were eight weeks from shooting when the plug was pulled. It's an R-rated movie. I wanted to keep it R rated, I felt like that would be appropriate, and it's an expensive movie. It's a massive world we're creating and it's not a world we can simply go to locations to shoot."
'28 Weeks Later' director Juan Carlos Fresnadillo also came close to directing a version of the film, but the film was ultimately cancelled.
Netflix has seen remarkable success adapting video games, most notably 'The Witcher' starring Henry Cavill becoming a global success.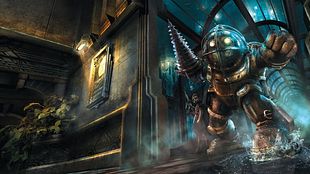 The Hollywood Reporter article that broke the story didn't mention a release date, but we can assume a release sometime in late 2023 with 2024 being most likely.
'Bioshock' is often regarded as the video game perhaps best suited to receiving a film adaptation, with no less than Oscar-winning director Guillermo Del Toro expressing his fondness for the game.
'Bioshock' tells the story of Jack, the sole survivor of a deadly Atlantic Ocean plane crash, who seeks refuge in an underwater city called Rapture.
Jack quickly discovers that the place has fallen into a civil war, with its citizens addicted to a powerful serum and facing off against Big Daddies, mutated humans merged with diving suits.
The world of Rapture is heavily influenced by the works of author Ayn Rand, making the game a unique blend of a first-person shooter with philosophical themes.
The original 'Bioshock' was released in 2007 to critical acclaim, with a 2010 sequel 'Bioshock 2' receiving strong reviews and 2013's 'Bioshock Infinite' seen as a swan song for the 7th generation of consoles.