Australian director Baz Luhrmann has revealed in a recent interview that a four hour-long version of 'Elvis' exists.
"I mean, I have a four-hour version, actually," said Luhrmann to Radio Times. Eventually the director had to settle with a 2 hour 39 minute version - quite a lengthy number in any right.
"I would have liked to lean into some of the other things more," Luhrmann continued. "There's so much more. I mean, there's lots of stuff that I shot, like the relationship with the band, I had to pare [that] down – and it's so interesting how the Colonel [Elvis' manager Tom Parker, played by Tom Hanks] gets rid of them."
Luhrmann wanted to explore more of the relationship between Elvis' first girlfriend Dixie and elements of 'Jailhouse Rock'. Eventually though, these scenes were cut from the final edit.
Other, slightly bizarre elements of the star's career also didn't make the finished version. "What happens is he starts doing wackadoo things – like going down to see Nixon," the 59-year-old explained.
Presley met Nixon in the White House in 1970 while both were at the height of their popularity. The meeting - which is undocumented - went ahead because the singer wanted to discuss "drug abuse and Communist brainwashing techniques" in his own words, written on the letter to the president requesting the meeting.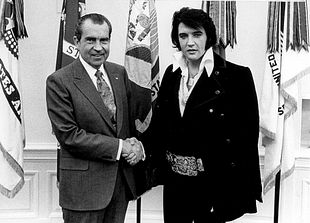 "I had it in there for a while," said Luhrmann. "But there just comes a point where you can't have everything in, so I just tried to track the spirit of the character."
'Elvis' stars Austin Butler and is seen through the prism of his complicated relationship with his enigmatic manager, Colonel Tom Parker (Hanks). As told by Parker, the film delves into the complex dynamic between the two spanning over 20 years, from Presley's rise to fame to his unprecedented stardom, against the backdrop of the evolving cultural landscape and loss of innocence in America. Central to that journey is one of the significant and influential people in Elvis's life, Priscilla Presley (Olivia DeJonge).
'Elvis' is in cinemas Friday, June 24