'Bullet Train' star Aaron Taylor-Johnson revealed that his stunt work for the David Leitch film didn't always go to plan.
Chatting to Variety on the red carpet, the 32-year-old revealed one stunt in particular made him black out, in part due to his "crazy mad Keto diet."
"We were in a fight sequence and I get drop-kicked across the room. And the one sharp bit of the corner where there wasn't any padding took a chunk out of my hand," the 'Kraven the Hunter' star explained.
"I literally went wham, passed out. And then I came back and was like 'Should we go again?' And they were like 'No, no, no. You gotta go get stitches at the hospital.' So then I spent the night in the hospital."
Taylor-Johnson stars as the assassin Tangerine alongside 'Atlanta' star Brian Tyree Henry as his brother Lemon. The two face off against Brad Pitt as he infiltrates a speeding Japanese train in order to snatch a briefcase. However, when he discovers the train is full of assassins on their own missions, he braces for a wild ride.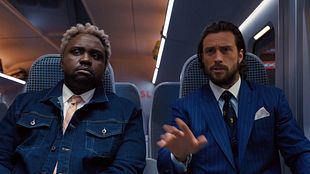 Director David Leitch lends his past stuntman career to the action heavy sequences involved in the film. Before directing films like 'Atomic Blonde' and 'Deadpool 2', the filmmaker performed as Pitt's stunt double.
Taylor-Johnson joked, "When you sign up for a David Leitch movie, you know you gotta get a couple battle scars, some war wounds."
'Bullet Train' also stars Bad Bunny, Joey King, Sandra Bullock, Logan Lerman, Zazi Beetz and Karen Fukuhara.
"We all just came and had fun, you know," Taylor-Johnson said. "David Leitch gave us so much room to improv and ad-lib, and we really just wanted to make these characters pop. I mean, it's such a heightened reality, the tone of this movie. [These characters] are so bombastic, so you wanna make them lifted and pop. So hopefully we've done that."
'Bullet Train' is out in cinemas on August 3.