More than any social media platform, Instagram is one that feels tailor-made for movie lovers.
After all, it's about videos, images, sound, music - the stuff that makes up movies. If you happen to be on Instagram, odds are you're probably following the likes of the Irish Film Institute, the Lighthouse Cinema, the Triskel Arts Centre, us (COUGH), but if you're looking to expand your horizons, here's a few accounts you should definitely consider following.
Yes, it's another cinema account - except this one is owned by Quentin Tarantino. In 2007, the director of 'Pulp Fiction', 'Django Unchained', and plenty of other movies you've heard of bought the cinema to save it from being redeveloped. Tarantino, it should be pointed out, doesn't operate the Instagram account, but it's nonetheless a really cool account that posts some fascinating stuff, not to mention regular shots of its glorious marquee out the front.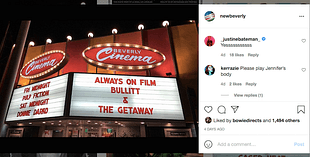 If your taste in movies tends to go more towards arthouse films and international cinema, chances are you're already following the Criterion Collection's presence on Instagram. For those who don't know what the Criterion Collection is, it's a home video distribution company that specialises in what it defines as "important classic and contemporary films". One of their regular features is having directors or actors into their closet full of DVDs and Blu-Rays and letting them pick any movies they want. Richard E. Grant, for example, picked up 'Some Like It Hot' and 'The Graduate', while Kim Cattrall walked off with Robert Altman's 'Nashville'.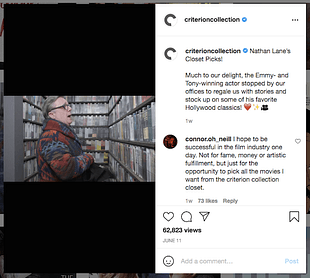 Curated by Irish visual designer Billie Jean Doheny, 'Video Nasty Presents' is a colour palette account of horror and sci-fi movies from the '60s and '70s, right up to movies released this year. Each post showcases the palette of colours in a given shot and really makes you think about colour choices from scene to scene. Kyle MacLachlan from 'Twin Peaks' has reposted some of its stuff, while Bryan Fuller, who was the showrunner on 'Hannibal' and the co-creator of 'Star Trek: Discovery', follows the account.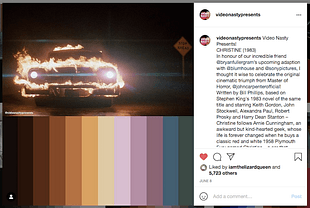 Yes, the director of 'Mission: Impossible - Fallout', 'The Way of the Gun', and the writer of 'The Usual Suspects' is on Instagram. McQuarrie regularly posts behind-the-scenes photos from his movies, and in a few cases, made casting announcements for his movie there. For example, a bunch of black-and-white photos of cast and crew for 'Mission: Impossible 7' went online in the past few months, with the likes of Rob Delaney, Mark Gatiss, and Cary Elwes confirmed for the cast after rumours circulated about a far-expanded cast.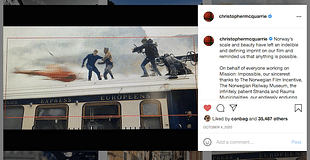 If there's one thing about Wes Anderson, it's that he's got an incredibly distinctive look. Or is it actually distinctive at all? 'Accidentally Wes Anderson' sets out to document real-world venues that have a Wes Anderson vibe to them. You'll frequently see gorgeously ornate hotels and cute restaurants and a description of what they are, but you'll also see a couple of familiar locations across Ireland too. The old DART carriages and Boland's Mills were posted on the account recently.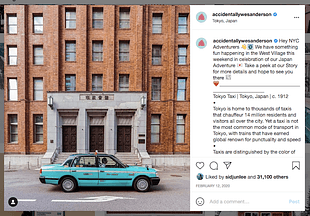 Although we know Instagram to be a visual medium where text is a secondary item, 'Screenplayed' fuses the two together by putting a scene and the actual screenplay together in one post to see where they differentiate and what each actor decided to accentuate or bring out in that moment. It's fascinating stuff, especially for some scenes which look completely different on paper to what they're played out as we know them to be.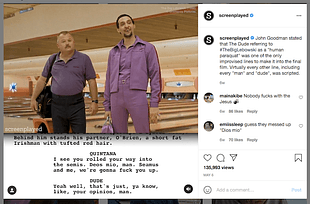 The website film-grab.com is one of the internet's largest archives of film stills, arranged and catalogued for easy access, but what the Instagram account does is select some key stills and visually striking images from them along with information on the movie's director, cinematographer, and production designer.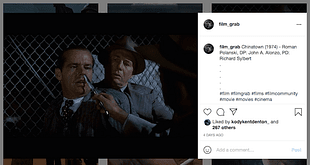 While it's not strictly an Instagram account about movies, 'It Came From Beyond Planet X' is too cool for us to ignore. It regularly posts stills, posters, and various other visual imagery from genre movies and forgotten classics, as well as some great behind-the-scenes shots from your favourite movies. Expect lots of John Carpenter, '70s sci-fi, '80s horrors, '90s TV, and just general weirdness all round.