The first trailer for the long-delayed 'Uncharted' film has been released.
Starring Tom Holland as Nathan Drake and Mark Wahlberg as his mentor Sully, the film is an adaptation of the Playstation series that first hit shelves in 2007.
Scored to 'Ramble On' by Led Zeppelin, the trailer is full of the one-liners, exotic locales and high-octane stunts you'd expected from the series.
The film doesn't appear to be retelling any one particular entry in the franchise, with the film taking elements from the different games in the series to tell a new story.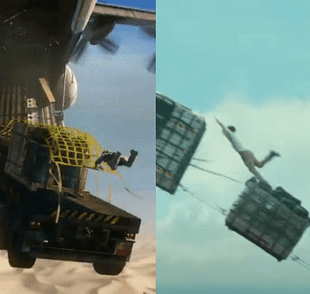 Directed by Ruben Fleischer ('Zombieland' and 'Venom') the film tells the story of Tom Holland's Nathan Drake, a young fortune-hunter who claims to be a descendant of the English explorer, Sir Francis Drake.
Mark Wahlberg co-stars as Victor 'Sully' Sullivan, a father figure of sorts to Drake and becomes his mentor on his globe-trotting adventures.
Antonio Banderas has been tapped to play the as-yet-unnamed villain, with 'Greys Anatomy' star Sophia Taylor Ali playing Chloe, a character from the 2nd entry in the series, 2009's 'Among Thieves'.
The games have been noted to their similarity to the likes of the 'Indiana Jones' and 'The Mummy' franchises, and the film appears to be an action-adventure in the style of Harrison Ford and Brendan Fraser's outings.
A cinematic adaptation of 'Uncharted' has been in development hell for over a decade, with directors as diverse as David. O Russell ('American Hustle, The Fighter') Shawn Levy ('Free Guy' and 'Night At The Museum') and Neil Burger ('Limitless and 'Divergent') all attached to direct at one stage or another.
The film is set for release in February 2022, along with a 'Legacy Collection' of 2016's 'Uncharted 4: A Thieves End' and 2017's 'The Lost Legacy' for Playstation 5 and PC.