Wednesday 17th of October, 6.30pm – JYellowL opens the show, welcoming everyone before handing over the reins to our hosts Kaquka and Mitchman. 
They welcomed the teams, Shlugs and Tenks, to the stage. After some brief banter – "McNuggets, what brought you back to Valorant? "Money." "What does your team have that Tenks doesn't? "Manners." – the players started their warmup while the captains went through the map veto. Shortly after this the matches got underway, and they did not disappoint.
The level of skill on stage was awesome, and you can see it for yourself in the recording on Wylde's Twitch page. There was everything you could hope for and more, aces, clutches, and last-second defuses, all of which served to drive the crowd crazy with excitement. After a very close first map, Bind, ending 13-10 and a bit of a walkover on map 2, Lotus, ending 13 – 2, Shlugs received their trophy and their championship rings. Simply writing about it won't do the match justice, so you really should check out the stream.
Almost more important than the game they played, or the match itself, was the crowd. There was an incredible turnout with people traveling from all over the country, north and south, east and west. Everyone we spoke to was blown away by the venue, every screen in The Camden was showing the match and the house lights were turned red for the occasion. Interestingly, there were quite a few people there who not only didn't play 'Valorant', but didn't even consider themselves gamers, and they were just as excited and absorbed as everyone else. The atmosphere created by the crowd was reminiscent of any top-tier competition in esports. They were shouting their support, cheering for clutches, gasping in unison at shocking moments, veteran players were happily explaining the game to anyone interested enough to ask, and while not exactly a 50/50 split, the spread of demographics easily dispelled the trope that only boys like gaming.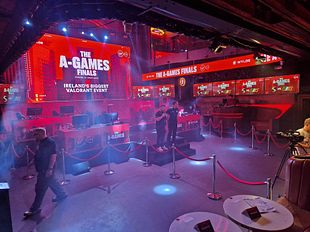 This even shows the dedication and commitment of Wylde and Virgin Media to Irish gamers. Putting on something of this scale isn't easy, so to even consider doing it – and putting it on for free – shows that they're not fair-weather supporters, they're the real deal. So often gamers see brands trying to impress gamers with low-effort ads or a single activation, and Virgin's continued support of Wylde makes it obvious that not only do they actually care about us, but they're here to stay. They're investing in us and finally creating the esports ecosystem that we need to get Ireland on the map.
Speaking to Steve and David, the co-founders of Wylde, they made it clear that they know they still have a lot to learn, but they're doing their best. And having been to the event we can safely say – their best is very, very, good. There has never been an event like this in Ireland, but seeing the success of last night we're sure there'll be more. 
As well as all the special guests, Riot, the developers of 'Valorant' also had a contingent in attendance. Among them were Allyson Gormely, Global Operations Director for Riot and the person responsible for 'Project Stryker', Riot's remote broadcast centres (the first of which opened in the old Wright Venue in Swords). Allyson is as passionate about esports as any of the other fans in attendance, and we're lucky to have this local Dublin woman as a champion for esports in Ireland. 
We've been waiting for this moment for a long time, and on a personal note, we want to extend our sincere appreciation to Wylde and Virgin Media for believing in Irish esports enough to do this. 
Now on to the next one!