After a fairly quiet 2021, gaming has roared back to life with a strong showing of titles.
The first half of the year has been robust, with everything from console exclusives to surprise indie hits grabbing attention.
With the summer game drought in full effect, we're revisting some of our favourite games of the year.
From epic RPG's to blasting ghosts on the streets of Tokyo, we've compiled our pick for our favourite games of the year so far - and perhaps even a hint about how our year-end top 10 list is shaping up.
5) Ghostwire Tokyo
The best games are those that surprise, and 'Ghostwire Tokyo' is the definition of a pleasant surprise.
Coming to us from Shinji Mikami's studio Tango Gameworks, 'Ghostwire Tokyo' is a fantastic romp through the deserted streets of Tokyo.
A really cool premise - where the hell has everyone gone and why are the streets of Tokyo deserted? - is enough to get players hooked, and the game adds in a devilishly addictive combat system for desert.
'Ghostwire Tokyo' is a great exercise in "less is more," and the sparse, but effective combat system matches perfectly with the vast, but empty game world.
There is very little like 'Ghostwire Tokyo' on the market, and it should be remembered as one of 2022's best games.
4) The Quarry
A recent pleasant memory, the new game from the 'Until Dawn' developers is the quintessential summer game.
There is something about warm weather and horror that go together, and 'The Quarry' captures this elusive feeling perfectly.
Supermassive Games gave us 'Until Dawn' in 2015 and the masters of horror are back in business with another love letter to the horror films of the 1980s.
Industry-best graphics, some wonderfully nasty gore and great scares make this a game that will live long after the credits roll - or until you go back and do it all over again with different decisions.
Supermassive Games are also one of the best in the business at creating labyrinthine branching plots, and 'The Quarry' manages to match the players decisions beat for beat.
Even in the frantic back half of the game, 'The Quarry' manages to keep up the tempo and keeps players on their toes.
'The Quarry' isn't the most sophisticated game we've played this year, but it's certainly among the most fun.
3) Weird West
Every so often in gaming, a game comes along that is so brilliantly inventive and weird that it helps reinvigorate your love of gaming as an art form.
'Weird West' is that game.
Taking cues from the classic 'Fallout' games, 'Weird West' is a rootin'-tootin' good time through a version of the wild west as imagined by David Lynch.
Lovecraftian horrors co-exist alongside a wild west ripped straight from the works of Leone, and is one of the most unique settings for a game in recent memory.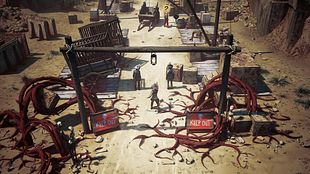 Twangy Morricone guitars co-exist alongside weird and fantastical creatures, while opting for a twin-stick shooter approach adds in a dash of 'Contra' into the mix.
'Weird West' is missing that one last tilt into true greatness, but for sheer originality and memorability, 'Weird West' is one of our most memorable games of the year so far.
If a game doesn't have the strongest gameplay in the world it needs a strong or weird narrative to put it over the edge, and this is a good example of what a strong narrative can do to paper over the cracks.
2) Gran Turismo 7
To mark 25 years on the market, 'Gran Turismo' pulled out all the stops for the big occasion.
While there are justifiable criticisms to be made over the game's microtransactions and grinding mechanics, this poor business decision should not take away from the achievement from the team at Polyphonic Digital.
There is a reverence and respect for the history of motorsport that makes 'Gran Turismo 7' a game for the history books, and a reminder that nostalgia can be effective when it's deployed properly.
If you're on the fence about buying a PlayStation 5, there is no better display of power than 'Gran Turismo 7'.
The graphics are a sight to behold, and need to be seen to be believed.
Good graphics need a good game to go along with it, and 'Gran Turismo 7' reminds us all these years later that the franchise is a classic for a reason.
A loving tribute to the history of motorsport, 'Gran Turismo 7' is the ultimate racing experience.
1) Elden Ring
Even before you clicked into this article you know what number one was going to be.
What is there to say about 'Elden Ring' that hasn't been said a million times since release?
'Dark Souls' was perhaps the most influential game of the 2010s, and 'Elden Ring' will undoubtedly be as influential in the 2020s.
'Elden Ring' is a miracle of gaming, and any game that lets you swap stories or tips with your friends down the pub 6 months after release is beyond comparison.
There is absolutely no chance in hell 'Elden Ring' isn't our game of the year come December.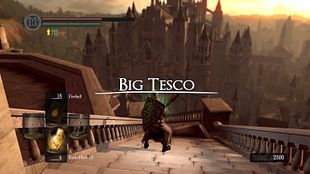 All these months later, there is still a staggering amount of depth and replayability to it, and the world is still begging to have secrets discovered.
The FromSoftware school of combat is as good as it's ever been, the game world is vast and beautiful and yes, the game will turn you into Swiss cheese at the slightest provocation.
'Elden Ring' gives as much as it takes away, but it makes those fleeting moments of victory all the sweeter.
There are very few experiences in culture like 'Elden Ring', and we'd include the world of music, film, and television in that.
There is a mythological quality to 'Elden Ring', a game that feels like it will still be talked about 100 years from now.
It is truly a transformative experience and a game that rightfully belongs in the pantheon of gaming history alongside 'Tetris', 'Grand Theft Auto' or 'Super Mario Brothers'.