The Nintendo Switch has officially become Nintendo's most successful console ever.
With the 5-year anniversary of the console fast approaching, Nintendo has reported that their pick-up-and-play console has overtaken the Nintendo Wii in lifetime sales.
The Wii held the record of Nintendo's most successful console ever, but the Switch has overtaken the lifetime sales of the hit 2006 console.
The latest lifetime sales for the Switch place it at 103.6 million, which is 2 million more than the Wii's lifetime sales of 101.6 million.
Remarkably, the report stated that the Switch had sold 10 million units since September which indicates that the bump the console received during the lockdown persisted well into 2021.
'Animal Crossing: New Horizons' is credited with helping supercharge the success of the Switch, with that game alone reportedly selling 35 million copies.
The Switch launched in March 2017 with strong initial sales thanks to the likes of 'Breath Of The Wild' and 'Super Mario Odyssey' being released within the first 6 months of the console's lifespan and maintaining a steady pace.
The onset of the Covid-19 pandemic in March 2020 gave the console a second wind with sales, as players flocked to the console's simplistic "pick up and play" nature, with the aforementioned 'Animal Crossing' helping turbo-charge sales.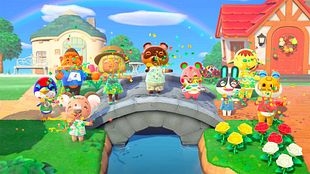 A new model with an OLED screen was launched late last year which also helped boost sales in late 2021, accounting for roughly 40% of sales of the Switch console.
Games like 'Pokemon Brilliant Diamond/Shining Pearl' and 'Mario Kart 8 Deluxe' were among the big sellers for the console during the final quarter of 2021, with Nintendo noting that sales of first-party games were at their highest since the launch period for the Switch.
With this landmark, the Switch has overtaken the original Sony PlayStation in terms of lifetime sales.
Nintendo said they are reducing the production of new Switch consoles owing to the ongoing global superconductor shortage, but are satisfied with the consoles robust sales.
No word as of yet on a successor console to the Switch, but industry analysts have pointed to a possible 2024 release date for Nintendo's new console.