February and March saw the An Post Money Mate Legion esports Spring Series take place with a prize pool of €5,450 up for grabs.
Players from all around Ireland and Europe took part in 'Fortnite' and 'FIFA' tournaments, with players putting their skills to the test to win cash prizes weekly and Series Points to qualify for the Grand Finals.
Entry is open to players of all skill sets and is free to enter - sign up for an account on the website now to keep up to date with information on the next series! 
SMG User wins the Legion Cup featuring Fortnite
The first big winner of the Grand Finals was SMG User – formerly known as FloBro - in the An Post Money Mate Legion Cup featuring Fortnite.
Playing weekly, he placed well each week, winning week 5 outright, and auto-qualifying for the grand final as part of the series leaderboard top ten.
His peak came in the Grand Final with a win over ten rounds netting them €500 in one night, with total series earnings of €675.
Another standout performance over the Fortnite series came from Ultrachill.
Although he placed third in the Grand Finals earning €125, his series total was a whopping €450 through weekly match wins.
xLorenzo15 takes home the Legion FIFA Pro Cup
Over in the FIFA Pro Cup, xLorenzo15 came out on top, taking his earnings for the tournament to €700.
xLorenzo15 put in the hard yards, with two weekly wins enough to secure his place in the final as series leader.
Joey Sharpe, a pro player for SNG_esports and Wolves had a great run through the tournament, snatching victory in last minute of the semi-final with a passage of play that would put the real Wolves to shame.
After squeezing his way through to the 3rd leg, his place in the Grand Final was secured, taking home €200 for placing 2nd.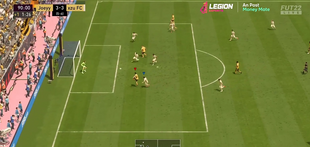 Baymannz secures the Legion FIFA Challenger Cup
The biggest surprise of the tournaments came when Irish starlet Matthew came 2nd overall in the FIFA Weekly Challenger Cup against the more established Baymannz.
Baymannz came out of the blocks to win in week 5, and earned enough series points to qualify for the finals as 2nd seed on the leader board.
Coming out on top in the Finals, as well as week 5, Baymannz walked away €400 better off thanks to a strong performance in the An Post Money Mate Legion Esports Series.
Baymannz was forced to fight for his title, however, with Matthew giving him a good run for his money.
Despite not winning the overall tournament, Mathew finished the tournament with total earnings of €475.
The summer series kicks off on April 11th - if you've always fancied yourself as a top video game player, now's the chance to convert that skill into cash.
Entry is open to anyone and is free to enter - come and have a go if you think you're good enough!